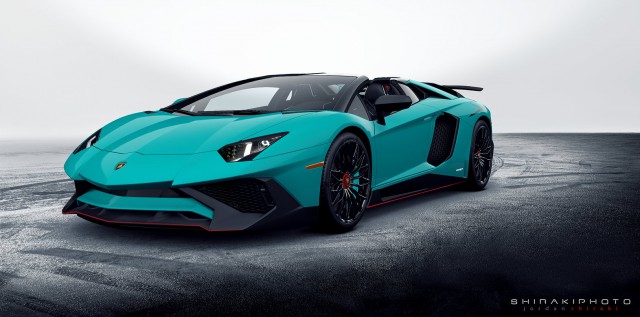 Not long after it was revealed that a Lamborghini Aventador LP750-4 SV Roadster is being developed, three images of the new car have been released by Jordan Shiraki, a world famous automotive photographer.
The Aventador SV Roadster pictured is painted in a new shade dubbed Blu Glauco which has an aqua flavour to it to really make it stand out. In the flesh, it will look even more exceptional. As expected, the Aventador SV features the exact same rear decklid as the 'standard' Aventador Roadster. According to reports, the car's roof will be made entirely from carbon fibre and weigh a mere 5.8 kg.
Powertrain wise, the Lamborghini Aventador SV Roadster will be the same as the standard coupe model. As a result, power from its 6.5-litre naturally-aspirated V12 engine will be lifted from 690 hp to 740 hp. Additionally, 50 kg can be expected to be saved over the current Aventador Roadster. Consequently, the Aventador SV Roadster should reach 100 km/h in 2.8 seconds, the same as the coupe.