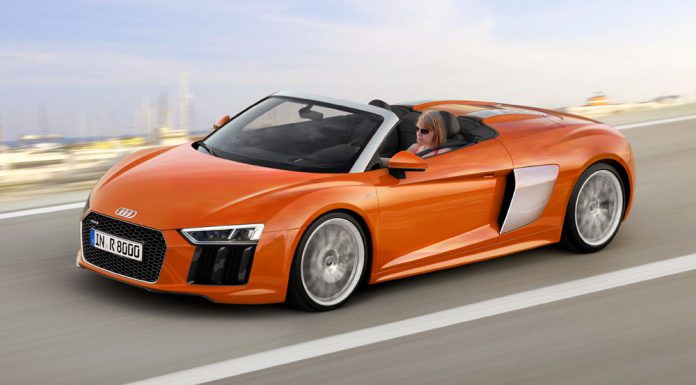 While it remains unclear when the latest generation Audi R8 will receive its Spyder variation, it will inevitably arrive in the coming years and should feature a rather stereotypical convertible design.
As the rendering above shows, the latest Audi R8 Spyder should adopt a similar folding roof design as the outgoing R8 Spyder. Consequently, it will consist of a fabric top as well as an overhauled decklid and engine cover.
Spy shots of the upcoming Ferrari 488 GTS Spider have shown it sporting a small glass panel above the engine similar to the McLaren 650S Spider. It remains to be seen if Audi will go down a similar path with the next R8 Spyder but there's certainly a possibility it will do just that. Whatever the case may be, it will be an undeniably good looking car.
As for the Audi R8 V10 Plus coupe on which this rendering is based, it utilises a 5.2-litre V10 engine delivering 610 hp and 560 Nm of torque. As a result, it sprints to 100 km/h in a brisk 3.2 seconds, 200 km/h in 9.9 seconds as well as a 330 km/h top speed. Due to the additional weight the Spyder will carry however, those acceleration times will increase slightly with a minor reduction in top speed also likely.