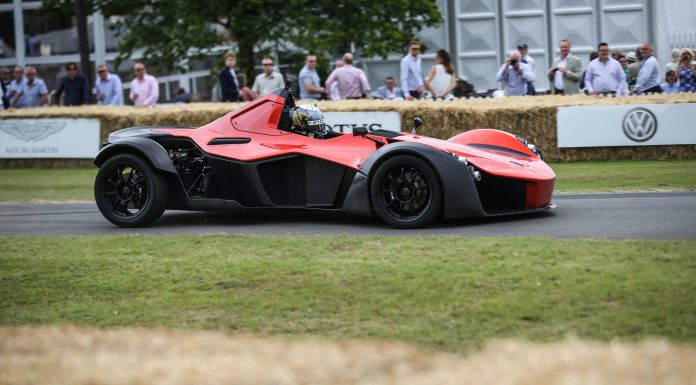 At the recent Goodwood Festival of Speed 2015, the 2016 BAC Mono was quietly introduced. Additionally, the car hit the famous hill climb with very little fanfare but managed to lay down a seriously impressive time up arguably the world's most famous driveway.
For the 2016 model year, BAC has installed an entirely new engine in place of the screaming 280 hp 2.3-litre Cosworth engine featured previously. In its place is a 2.5-litre four-cylinder from Mountune pumping out 305 hp. When combined with a total weight of just 580 kg, the 2016 BAC Mono has an insane power-to-weight ratio of 526 hp per tonne. Additionally, the new car features a drive-by-wire throttle system.
At Goodwood, the British sports car sprinted up the hill climb in a brisk 47.9 seconds which BAC claims is a record-breaking run for a road-legal car. Additionally, it has been revealed that the 2016 Mono managed to lap the Hungaroring in 1:14.3, putting it 9.5 seconds ahead of the Porsche 911 GT3 and 4.5 seconds faster than a McLaren P1.
Discussing the car and its Goodwood appearance, BAC test driver Oliver Webb said "It's always a privilege to drive at Goodwood and particularly to be entrusted to give the 2016 Model Year Mono its world debut in the 'First Glance Class'. As Goodwood regulars will know, this class is not timed but our onboard telemetry showed that all of our runs were comfortably sub 50-seconds. Our time would have been faster than the quickest time set in this year's supercar shoot out and would have even beaten the fastest road car time ever recorded on the hillclimb, by the mighty Nissan GT-R Nismo Time Attack. Clearly our times were unofficial, but I would love to come back next year and challenge for the record officially, on new tyres and with our latest-spec Mountune engine."