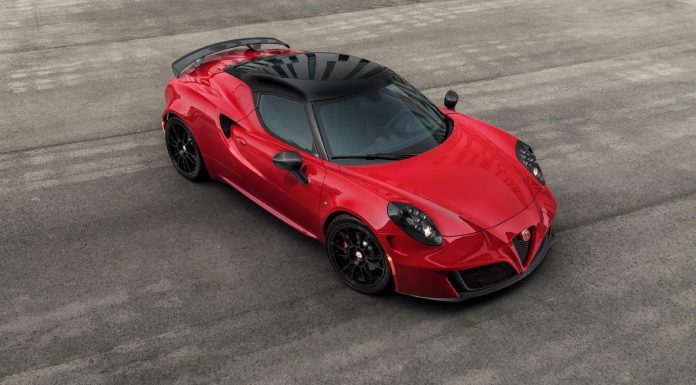 Tipping the scales at just 895 kg, the Alfa Romeo 4C is an exceptionally capable sports car capable of providing unrivalled driving thrills as well as respectable levels of speed. Not satisfied with the standard car however, Pogeo Racing has just unveiled its extensively modified Alfa 4C.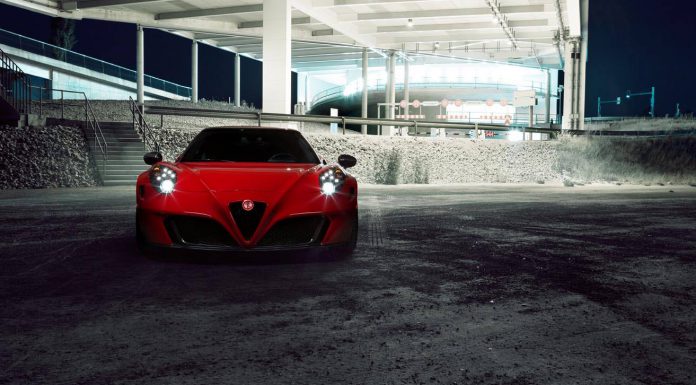 Typically, the 1.75-litre turbocharged four-cylinder engine of the 4C pumps out 240 hp and 350 Nm of torque. Pogeo Racing's entry-level tuning kit, dubbed the Phase 1 package, sees horsepower rise to 293 hp and torque jump respectably to 415 Nm. If that isn't enough, the Stage 1 Plus package is also offered with it delivering a total of 313 hp and 435 Nm.
In its most potent state of tune, the Pogeo Racing Alfa Romeo 4C will rocket to 100 km/h in just 3.9 seconds before crossing the 200 km/h barrier in 14.4 seconds. Additionally, top speed rises considerably to a supercar rivalling 301 km/h.
Besides the mechanical modifications, the Pogeo Racing Alfa Romeo 4C includes a plethora of visual and aerodynamic tweaks. At the front for example is a new splitter and bumper package. Additionally, a new rear diffuser has been installed as have new tailpipes measuring 101 mm respectively.
[showhide]
"In only 3.9 seconds from 0 to 100 km/h – The new Alfa Romeo 4C Centurion by Pogea Racing
It beats them all, no matter whether the current Porsche 911, BMW M4 or Mercedes AMG GT! We're talking about the new performance car from Pogea Racing based on the Alfa Romeo 4C. With an acceleration to 100 km/h in only 3.9 seconds the purist sports car with a top speed of over 300 km/h will, in all events, cause many an astonished look.
With the project, baptised Centurion, the Pogea Racing company based in Friedrichshafen on Lake Constance has once proved what technical competencies are in the whole team gathered around Eduard Pogea the "creative mind". "We have allowed ourselves a lot of time since 2013 to conduct a detailed analysis the standard 4C in all its facets" says the owner. "Only then were we, at the end of the development phase, able to offer performance enhancements that had been tried and tested and had proved that they function trouble-free on the road and the race track."
With a form that wakes emotions and a fighting weight significantly under 1000 kilograms the standard ex-works Alfa Romeo 4C is already a sporty Italian. "In my point of view there are always opportunities for optimisation", says Pogea, "Our Centurion seems an impressive way of proving this."
The 1.8 litre four cylinder engine with ex-works 240 bhp/177 kW and 350 newton metre was re-engineered in two phases: In "Phase1" the team coaxed 293 bhp/216 kW and a torque of 415 newton metre from the turbo charged engine, in "Stage 1 Plus" even as much as 313 bhp/230 kW and an immense torque of 435 Nm. With these modifications the virulent Southern European reaches 100 km/h in the 3.9 seconds mentioned at the beginning, after 14.4 seconds it has broken the 200 km/h sound barrier. The acceleration experience only end when 301 km/h have been reached, the standard version gives in to the air resistance at 258 km/h.
Of course the Centurion by Pogea Racing has quite a few other optimisations to show: The front and rear aprons are completely made of carbon fibre and can convince with matching visible carbon fibre applications. The rear diffuser has openings in the middle for the end pipes with a diameter of 101 millimetres, which optionally be made of carbon fibre or stainless steel. Here Pogea Racing offers four versions with or without flaps and silencers, of course these – and all other components – are TüV (German Association for Technical Inspection) certified. In addition the vehicles behind can have a good look at the new rear spoiler (available in PEC or carbon) which increases the contact pressure on the rear axle by 35 kilograms at 160 km/h.
In order to ensure even higher cornering speeds and, as a result, even more driving pleasure, Pogea Racing conducted a complete update of the chassis with its double wishbone at the front and McPherson struts at the rear by adding Pogea Racing L2-components. These are adjustable in the height and the hardness and can thus be perfectly adjusted for the personally defined use – whether on the race track, the motorway or country roads – of the Alfa owner. Thee Centurion feels at home in all conditions – and the competition is often left behind.
Besides the Pogea Racing 4C Centurion the Friedrichshafen company also offers individual components harmonised to the customers' wishes for other makes. These are reconciled to the various fuel qualities on the international markets so that the owner of a Pogea performance car can count on the same performance everywhere.
"
[/showhide]