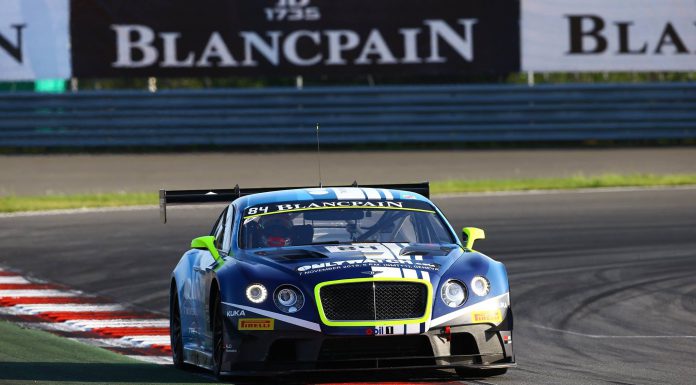 HTP Motorsports scored their first Blancpain Sprint Series win in their new Bentley Continental GT3 at the Moscow City Racing held at the Moscow Raceway. The winning #84 car was driven by Vincent Abril and Maxi Buhk, for this round the car was livered in blue colors reflecting the Only Watch charity organization. Their sister car, the #83 Bentley Continental GT3 of Max van Splunteren and Jules Szymkowiak won in the Silver cup and finished 10th overall.
"At the start I followed the Lamborghini, but then Albert suddenly slowed down and I managed to overtake him. I quickly had a good gap to the cars behind, so I could fully focus on my driving." Said Abril, "I did not look in the mirror once. The Bentley was fantastic, the team did excellent work and Maxi finished the job. I am so happy with this first win."
Starting from pole was the duo of Nick Catsburg and Albert von Thurn und Taxis piloting the #88 Reiter Engineering Lamborghini Gallardo. Unfortunately soon as the race got underway there was an incident involving the pole starters, the #0 BMW Sports Trophy Team Brasil car and the #2 Belgian Audi Club Team WRT R8. This resulted to the Lamborghini losing the lead and later on retiring alongside the #0 BMW.
There and then Abril saw an opportunity and grabbed the lead, pulling away from the messy incident. He managed to pass the #77 BMW Sports Trophy Team Z4 then the #333 Rinaldi Racing Ferrari 458 GT3 of Marco Seefried and Norbert Siedler. The Ferrari finished the race in second sharing the podium with the #77 BMW which flashed across the finish line in third.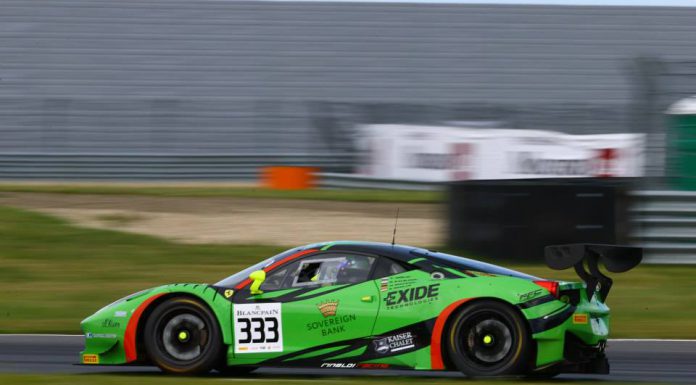 Championship leader Laurens Vanthoor had a series of mishaps – he suffered a puncture during qualifying and had to start from last in the main race. The veteran driver fought and managed to climb up the field before finishing in fifth. Vanthoor gathered 10 points to extend his leadership in the series. The team of Stephane Richelmi and Stephane Ortelli crossed the finish line in fourth after benefiting from a spin by Vanthoor.
The Pro-AM podium was filled by Russian drivers making the Moscow fans proud of their heroes even more. Alexey Karachev and Christophe Bouchut crossed the finish line first with the GT Russian Team Mercedes-Benz SLS AMG GT3, followed by a similar sister car of Alexey Vasilyev and Marco Asmer. Mark Shulzhitskiy and Nick Hammann claimed third in the Nissan GT-R GT3 NISMO of Nissan GT Academy Team RJN.
The next Blancpain GT round will be the 24 Hours of Spa for Round 4 of the Blancpain Endurance Series starting July 21.