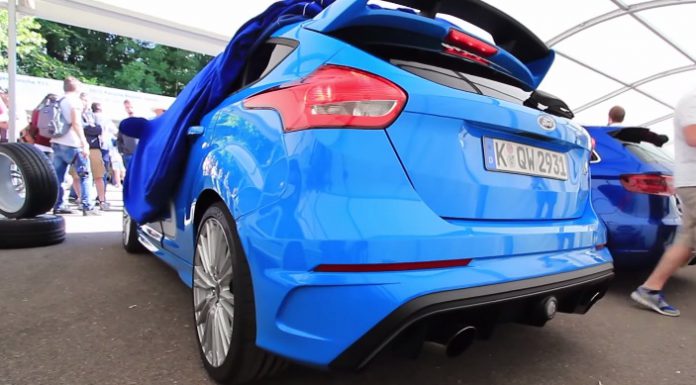 Alongside an array of other cars, the 2016 Ford Focus RS celebrated its dynamic debut at last weekend's Goodwood Festival of Speed 2015. With Ken Block behind the wheel throughout its numerous runs up the famous hill climb, it really put on a spectacular show for attendees.
[youtube]https://www.youtube.com/watch?v=V1MMA1hPOfU[/youtube]
This particular video offers us our first chance to hear the new Focus RS both revving and being driven to its absolute limits by Kenny from the Block. While it may only feature a small 2.3-litre turbocharged four-cylinder engine, it sounds quite ferocious!
All up, the Focus RS's engine pumps out 345 hp and 470 Nm of torque. The increased power in the car is owing to the use of low-inertia twin-scroll turbocharger and the engine's intake design, which allow for a greater air flow. Moreover, the exhaust system has an electronically controlled valve which helps in maintaining back pressure and noise output. Ford has taken measures to ensure that the cylinders are able to withstand high temperatures and the engine is able to meet the cooling demanded for tracks.
The Focus RS also features a Drift Mode and Launch Control. Meanwhile, the powertrain has been "specially engineered" for the Focus RS and the car has been tuned by the engineers to produce a sporty sound during performance driving as this video showcases.