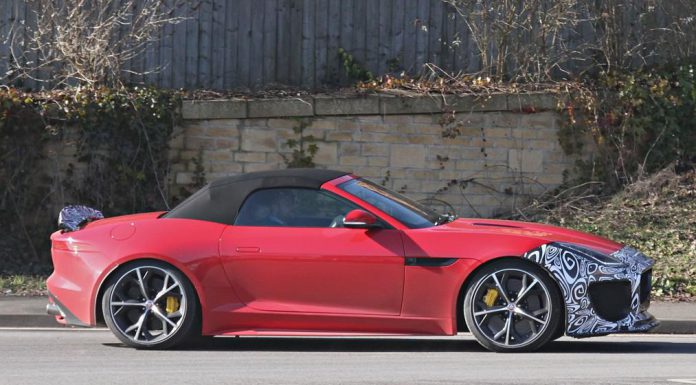 It has been confirmed that the upcoming range-topping Jaguar F-Type SVR will be installed with the British firm's potent all-wheel drive system.
Throughout the development of the F-Type SVR, it has been unclear if it would be rear-wheel drive or all-wheel drive. In opting for all-wheel drive, Jaguar is ensuring the F-Type SVR directly targets the popular Porsche 911 Turbo rather than rear-wheel drive sports cars like the Porsche 911 GT3 and inevitable Mercedes-AMG GT Black Series.
Additionally, the already-potent Jaguar F-Type R Coupe has proven to be quite a handful in rear-wheel drive spec so sending power through the front wheels as well will ensure the SVR remains relatively easy to control.
Under the bonnet, the F-Type SVR will feature an uprated variant of the British firm's range-topping 5.0-litre supercharged V8 engine. In F-Type Coupe R specification, that powerplant pumps out 543 hp. For the F-Type SVR however, horsepower is pinned to sit around the 600 hp mark. As a result, the Jaguar F-Type SVR will become the automaker's most powerful model on sale.
Mated to the upgraded engine will be a tweaked variant of the existing ZF eight-speed automatic transmission.
[Via Car Magazine]