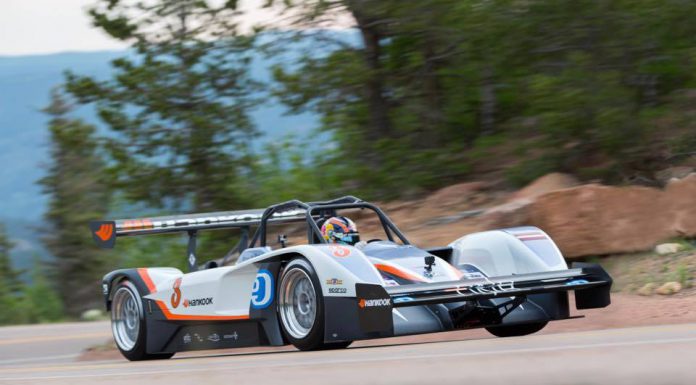 This year's Pikes Peak International Hill Climb has been won by course veteran Rhys Millen onboard his all-electric racer. As a result, this year's 'Race to the Clouds' marks the first time that an electric car has taken the overall victory.
Millen managed to conquer the course in an impressive 9 minutes and 7.22 seconds. While that time is significantly slower than Sebastian Loeb's record time of 8:13.878, it is the fastest time set by an electric car. As further evidence of the shift away from internal combustion engines to electric cars, Nobuhiro 'Monster' Tajima' came home in second behind the wheel of his electric Rimac e-Runner with a 9:32.401.
Electric powertrains are gaining popularity in hill climb events around the world as they don't lose power like conventional cars as the altitude climbs and the air gets thinner. As it stands however, the batteries which accompany the electric motors are too heavy for records to be achievable.
Elsewhere, Paul Dallanbach set a time of 9:36.496 in his custom open-wheeled racer to take out victory in the Time Attack 1 class. He managed to beat Jeff Zwart in his Porsche 911 created by BBI. The Unlimited Class was one by Dominic Dobson in a Radical SR8 with a time of 10:15.289.