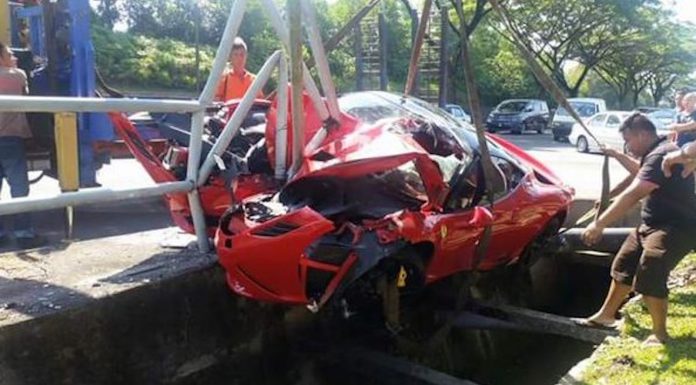 A Ferrari 458 Speciale was completely wrecked in Malaysia after the hit a guard rail along the Jalan Tabuan Court in the Kuching district of Sarawak.
The road on which the accident occurred is usually busy as it connects to the airport and important residential and commercial districts. After the crash, locals soon flocked the area to get pictures of the totaled Ferrari, which have now gone viral on Twitter and Facebook. Some users commented on the incident using the hashtag "#KuchingFastAndFurious".
The accident reportedly occurred somewhere between 10 and 11 am and the authorities removed the car within an hour from the spot. The details of the accident are not clear at the moment but the Ferrari was likely to be speeding. The driver, who is said to be the son of a prominent property tycoon in Malaysia, thankfully escaped unhurt.
From the pictures we can see that the car is in complete ruin. The front windscreen, bumper, panels and headlights have been destructed. Some braking and other mechanical components are surely to have been damaged as well.
The 458 Speciale is powered by a 4.5-liter V8 that churns out 597 hp, allowing it to sprint from 0 to 100 km/h in just three seconds. The car was launched in Malaysia last year and costs upward of RM 1,240,000 ($329,000).
[Via AsiaOne]