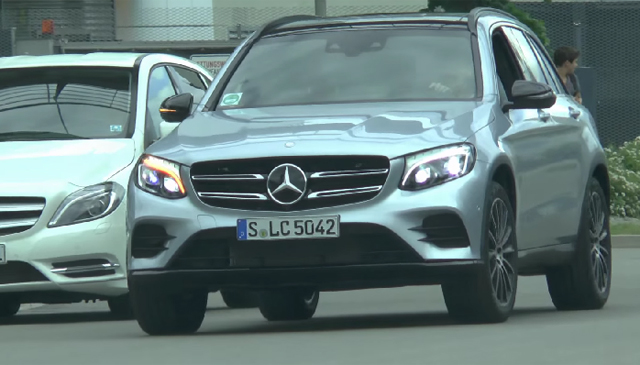 Just after its online debut, the brand new Mercedes-Benz GLC has been filmed cruising the streets for the very first time. The clip reiterates the point that the GLC actually looks smaller than the GLK which it replaces despite it being bigger. That optical illusion largely comes down to its more curvaceous and flowing design.
[youtube]https://www.youtube.com/watch?v=1oeLmYcq_-M[/youtube]
Despite the added size of the GLC and the added range of equipment available, the car actually weighs 80 kg less than the GLK. Those weight savings have been achieved primarily through the use of new aluminium and high-strength steel body panels. Additionally, the chassis features a range of aluminium elements while even parts of the Air Body Control air suspension system is constructed from glass-fibre-reinforced plastic. The magnesium transmission housing also shaves off 12 kg of weight.
On a driving front, the 2016 Mercedes-Benz GLC offers five different driving modes. These consist of the Eco, Comfort, Sport, Sport+ and Individual settings all of which are featured on other Mercedes-Benz models. A unique feature of the GLC is the Off-Road Engineering package. It adds a further five driving programs like 'Slippery', 'Offroad' and 'Trailer'. One of the most interesting is the 'Rocking Assist' program. If the GLC gets stuck while offroading, this driving function raises the car's ride height by 50 mm while the wheel-slip control thresholds are increased to allow the GLC to work its way free.
At the SUVs launch, four different variants will be offered. These are the 2016 Mercedes-Benz GLC220d 4Matic, the GLC250d 4Matic, GLC250 4Matic and GLC350e 4Matic.