The 2016 Porsche 911 GT3 RS may have only been revealed back in March but already, one example in Europe has received an aftermarket wrap.
This particular 911 GT3 RS was work on by Print Tech Premium Wrapping in Munich, Germany. The wrap is dubbed Racing Orange Matte and as the name implies, it is an ultra-bright and eye-catching shade of orange with a matte finish.
Interestingly, just four different colours are offered by Porsche for the new 911 GT3 RS. They are white, silver, orange and a brand new shade of purple dubbed Ultraviolet Purple. While these four colours certainly work well with the new 911 GT3 RS, they definitely aren't quite as bold as Racing Orange Matte!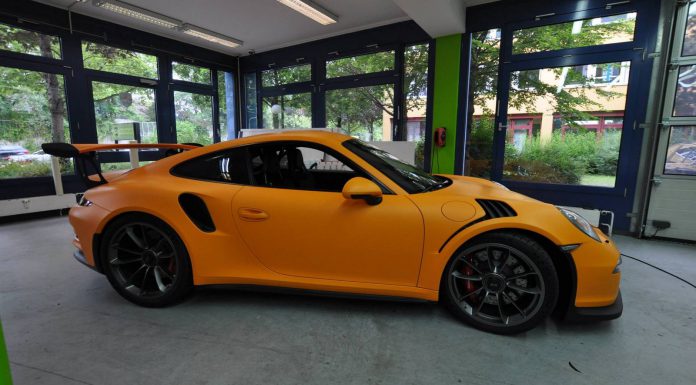 The 2016 Porsche 911 GT3 RS of course uses a brand new 4.0-litre six-cylinder engine which remains naturally aspirated. It has been tuned to deliver 493 hp (the same as the 997 GT3 RS 4.0) but now delivers 384 lb-ft of torque which is 15 lb-ft more than the GT3 RS 4.0. Additionally, these figures represent a 25 hp and 60 lb-ft increase over the current 911 GT3.
As always, the new Porsche 911 GT3 RS features rear wheel drive and the aforementioned six-cylinder engine is coupled to a seven-speed dual-clutch PDK transmission. When combined with an advanced torque vectoring system and a variable locking differential, Porsche claims the new 911 GT3 RS will lap the famous Nurburgring Nordschleife in 7 minutes and 20 seconds. Alongside that 'Green Hell' time, the 2016 Porsche 911 GT3 RS will accelerate to 100 km/h in a mere 3.3 seconds and crack the 200 km/h mark in just 10.9 seconds. By comparison, the old 911 GT3 RS needed 3.9 seconds to hit 100 km/h.
Porsche 991 GT3 RS in Racing Orange matt.