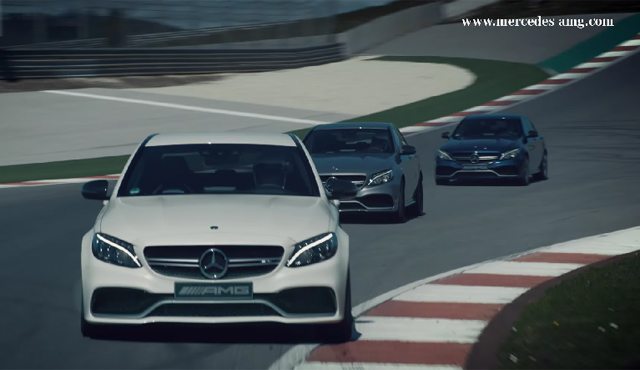 A new commercial for the 2016 Mercedes-AMG C63 has been released. Set to the soundtrack of Transformers: Revenge of the Fallen, Linkin Park's 'New Divide', the clip showcases the new German super-sedan on the race track.
[youtube]https://www.youtube.com/watch?v=EoVlJghtXkk[/youtube]
In typical AMG fashion, the video includes all the necessary burnouts and powerslides that AMG models have made a name for. In case you needed reminding that Mercedes-AMG really does think of the driver when developing its cars, this clip is perfect for you.
Compared to the previous Mercedes-Benz C63 AMG which just so happens to be the firm's most successful ever model, the newly named Mercedes-AMG C63 uses a twin-turbocharged 4.0-litre V8 rather than a 6.2-litre naturally-aspirated V8. In C63 S specification, the new engine shared with the AMG GT S produces 503 hp at 5500 rpm and 516 lb-ft of torque from 1750 to 6250 rpm. This is even more power than the old C63 AMG 507 Edition which delivered 500 hp and 450 lb-ft and is in line with the AMG GT S.
When it is all said and done, the new 2015 Mercedes-AMG C63 sprints to 100 km/h in just 4.1 seconds in sedan guise and 4.2 seconds in the optional Estate body style. By comparison, the C63 S reaches the same mark in 4 seconds flat as the sedan and 4.1 seconds as the Estate. Both variants and body styles are limited electronically to 250 km/h.