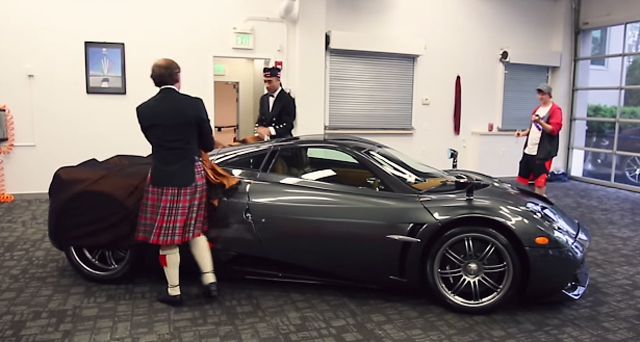 Miller Motorcars, one of our Top 10 exotic car dealerships in the world, recently handed over the keys to a special Pagani Huayra dubbed the Scozia. As the name hints, this example of the Italian supercar has been given a Scottish flare and makes it one of the most interesting Huayras we've seen to date.
At the Huayra Scozia's unveiling, Miller Motorcars ensured the event had a Scottish twist to it so those that pulled the covers off were wearing kilts and traditional attire of Scotsman. What's more, a bagpiper was also present to really transport those in attendance to the Scottish highlands.
[youtube]https://www.youtube.com/watch?v=TERtUGUXDPI#t=153[/youtube]
As for the Pagani Huayra Scozia itself, it is painted in a dark shade of grey. As a result, it certainly isn't the boldest Huayra going around. While the exterior is relatively understated, the real Scottish influence can be seen in the cabin. Most prominently, the seats are adorned with brightly coloured fabric as well as dark brown leather. Brown leather is also found on the dashboard, steering wheel and parts of the centre console.
Interestingly, the colours of the interior match those of the family crest of the lucky owner. At the car's unveiling, the custom Pagani Huayra '1 of 1 of 1' was also in attendance as well as a dark blue example.