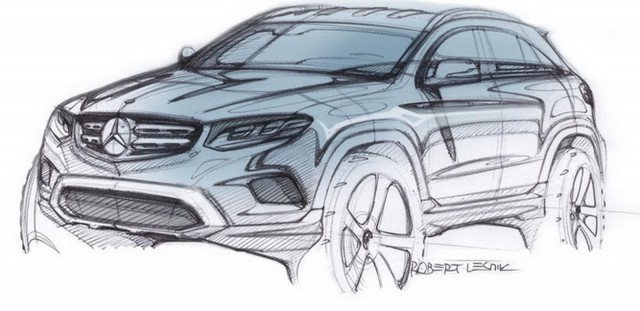 An official sketch of the upcoming Mercedes-Benz GLC SUV has just been revealed before the car celebrates its world debut at the IAA Frankfurt Motor Show 2015 in September. The car will debut online on June 17.
Designed to replace the Mercedes-Benz GLK, the GLC will initially be sold as a four door but a two-door variant will also be offered down the road. From the sketch provided, it is evident that the GLC will take design inspiration from the German marque's range of updated SUVs like the sophisticated GLE Coupe.
As such, the front end will feature relatively slimlined headlights alongside a soft-nose front grille and bold air intakes. Squared off wheel arches can also be seen from the sketch as can aggressive body lines and creases on the bonnet and down the doors. Generally speaking, the design of the GLC is much softer than the GLK will fewer straight lines.
Underpinning the GLC will be the same chassis as the W205-generation C-Class. As a result of this, its interior will be similar to the C-Class and unlike the GLK, the GLC will be available in right-hand drive allowing it to enter the UK, Japan and other right-hand drive markets.
The C-Class's engine lineup will also be shared with the GLC. That means a 1.8-liter turbocharged four-cylinder engine will serve as the powerplant in the GLC 250, while the GLK's 2.1-liter diesel will be employed in the GLC 250 BlueTec. A V6 will likely remain under the bonnet of the GLC 350, however it's still not clear if an AMG model is in the works.