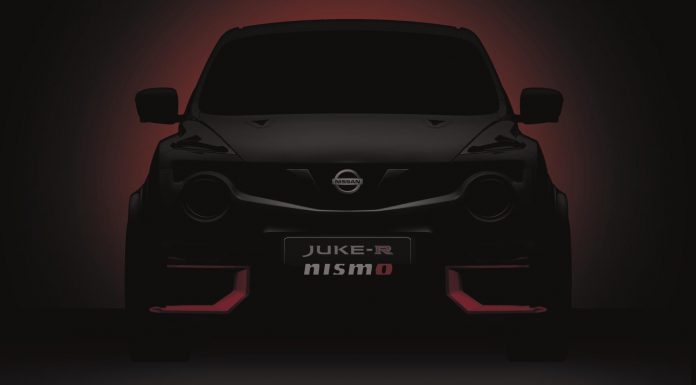 The upcoming Nissan Juke-R Nismo has just been teased before its world debut at the upcoming Goodwood Festival of Speed 2015. As the name implies, the Juke-R Nismo will be even more insane the original Nissan GT-R powered Juke R.
Beneath the skin, the Nissan Juke-R Nismo is expected to be fitted with the same screaming twin-turbocharged 3.8-litre six-cylinder engine as the GT-R Nismo. As a result, it should pump out the same 600 hp rather than the 545 hp of the 'standard' GT-R and Juke R. It is also likely that the Juke-R Nismo will include a range of other technologies from the GT-R Nismo likes its revised and even more track-focused suspension system.
As for the teaser image itself, it reveals that the Juke-R Nismo will be even more aggressive and in-your-face than the Juke-R. Most eye-catching is the new front bumper with bright red air intake surrounds. Additionally, a bonnet inspired by the GT-Rs has been installed as have massively flared wheel arches.
As Nissan is remaining coy on specifics, it is unclear if the Juke-R Nismo will be a strict one-off or if like the standard Juke-R, it will be offered in limited numbers.