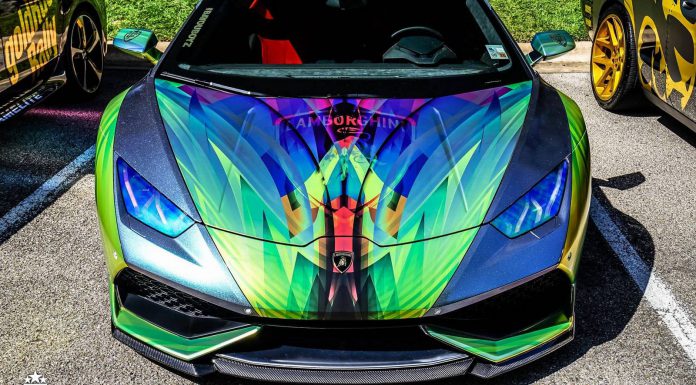 On Day 5 of goldRush Rally 7, participants stopped off at the Omni Barton Creek Resort in Austin, Texas. In true goldRush Rally style, the resort's carpark was filled with some of the world's greatest sports cars and supercars.
Certainly one of the most eye-catching cars there was a heavily customised Lamborghini Huracan. The Italian supercar features a bespoke wrap incorporating colourful chrome elements as well as silver accents. Greens, blues, purples, pinks and yellows are featured across the complex design and the finished look is unlike any other we've seen before. Completing this Huracan are a set of aftermarket wheels, a carbon fibre front splitter and carbon rear wing.
Also featured at the stopover was an equally as bright Lamborghini Aventador with a chrome and lime green wrap. The custom satin blue McLaren 12C with Vorsteiner wheels, aftermarket side skirts and bumpers was also quite the head-turner. Other awesome cars featured included a white BMW M4, chrome Audi R8, matte red Lotus Evora and a white and gold Nissan GT-R.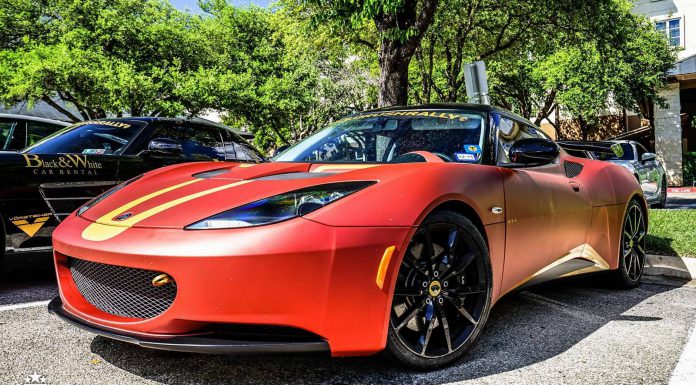 goldRush Rally 7 will see the cars travel two legs. The first takes in the sights of the South West, the second travels across to the South East. The first stop will be Las Vegas, followed by Sedona, Arizona and Santa Fe, New Mexico. The participants will then cross the country to Austin, Texas before hitting the road through New Orleans, Louisiana and Jacksonville, Florida. The chequered flag will drop in Miami, Florida on June 13.