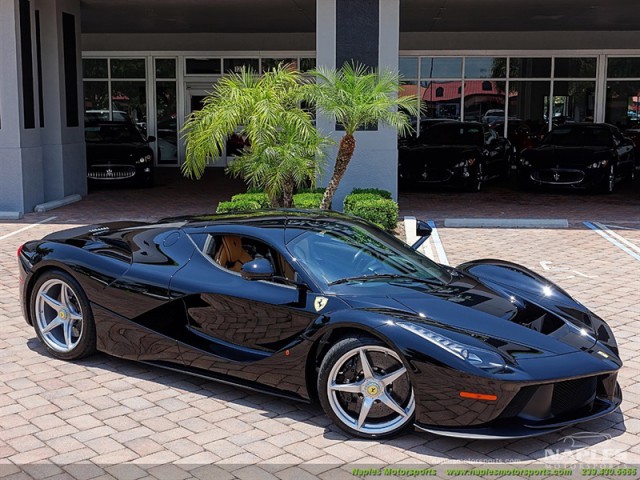 Naples Motorsports currently has the only Ferrari LaFerrari up for sale in North America. Featuring an eye-catching black exterior finish, it's inevitable that this LaFerrari will be purchased by a true Ferrari enthusiast in the near future.
Rather incredibly, the car has travelled a mere 202 miles meaning it is essentially brand new. There's a good chance that its original owner decided to sell the hybrid hypercar soon after taking delivery to cash in on a fairly hefty profit. While the listing has the LaFerrari priced at $5 million, that price is inevitably a mistake.
Beyond the black paint, this LaFerrari includes silver five-spoke wheels complete with yellow centre caps. It also includes black brake calipers. The interior then features tan coloured leather complete with prominent black piping and black Cavallino's on the headrests. The cabin also features a range of alcantara elements and carbon fibre components.
Beneath the skin, the LaFerrari of course features a screaming naturally-aspirated 6.3-litre V12 engine delivering 950 hp when combined with an electric motor.