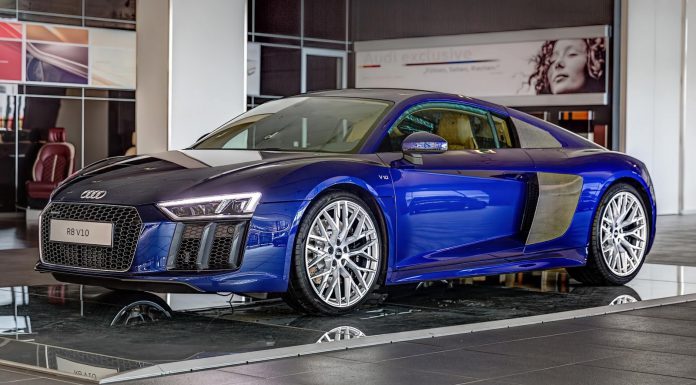 An absolutely beautiful 2016 Audi R8 V10 is currently on display at leading Audi dealership Audi Forum Neckarsulm. The dealer has shown off a whole host of eye-catching Audi models recently and this R8 V10 is absolutely no exception.
For starters, the car is painted in Santorini Blue and has been fitted with a set of 10-spoke aluminium wheels. Additionally, it features a carbon gloss engine cover as well as carbon fibre split side blades. A matte black rear diffuser is also featured.
Inside, everything is just as eye-catching. With that in mind, Havana Brown leather is found throughout the seats, armrests and door trim inserts. Brown-black contrast stitching is also featured throughout alongside a selection of Piano Black and Nappa leather wrapped elements. The roof liner is also made from luxurious Alcantara.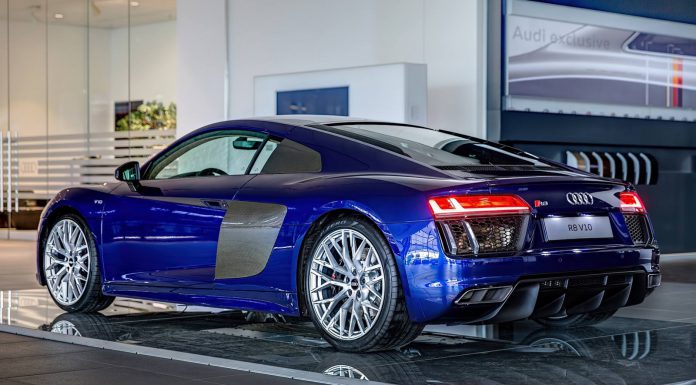 In 2016 Audi R8 V10 specification, the German supercar's 5.2-litre naturally-aspirated V10 engine produces a total of 540 hp. Consequently, the car will accelerate to 100 km/h in a mere 3.2 seconds, 200 km/h in 9.9 seconds as well as a top speed of 330 km/h.
Numerous upgrades have been performed to the engine to help achieve the higher horsepower and torque outputs. First and foremost, a new indirect injection system has been installed alongside the FSI direct fuel injection. Elsewhere, dry sump lubrication is featured. Additionally, the second-generation 2016 Audi R8 boasts the new cylinder on demand (COD) system which translates into lower fuel consumption as one bank of cylinders can shut down when not required. All told, the Audi R8 V10 consumes a mere 11.8 litres of fuel per 100 km.