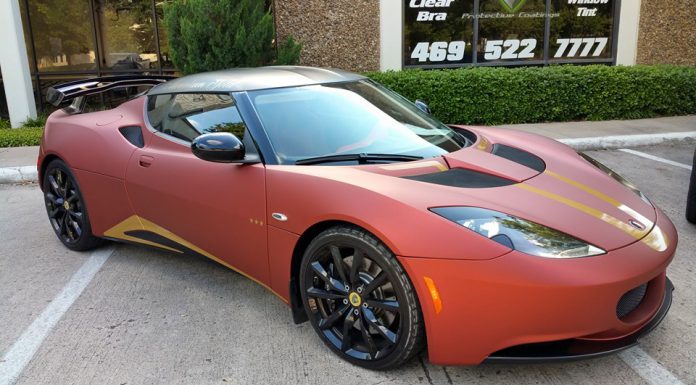 With a range of Lamborghinis, Ferraris and Bugatti Veyrons competing in the ongoing goldRush Rally 7, standing out in a Lotus Evora is exceptionally hard to do. The owner of the following Evora however, has attempted to do just that by having it installed with a bespoke wrap especially for the popular road rally across the United States.
The wrap comes courtesy of Speed Shield and is finished in a colour dubbed Arlon Anodized Aluminium Red. Put in simpler terms, it is matte red but has a unique tint to it to distinguish it from other matte red cars. Alongside the body panels finished like this, this Evora also includes a number of dark matte yellow and satin black elements.
Beyond the wrap, the most interesting point about this particular Evora is that it is actually the incredibly rare Evora GT350 variant. A mere 22 examples were ever created with just 6 of those in right-hand drive. Each of the 22 were built from Evora GTE models which remained unsold at the firm's headquarters since 2012. To give them a new lease on life, the GT350 was launched late last year.
Alongside a plethora of visual and aerodynamic modifications, the Lotus Evora GT350 features a tweaked suspension setup but otherwise remains mechanically identical to the Evora S. As a result, it utilises a Toyota sourced 3.5-litre V6 supercharged engine delivering a total of 345 hp.
goldRush Rally 7 will see the cars travel two legs. The first takes in the sights of the South West, the second travels across to the South East. The first stop will be Las Vegas, followed by Sedona, Arizona and Santa Fe, New Mexico. The participants will then cross the country to Austin, Texas before hitting the road through New Orleans, Louisiana and and Jacksonville, Florida. The chequered flag will drop in Miami, Florida on June 13.