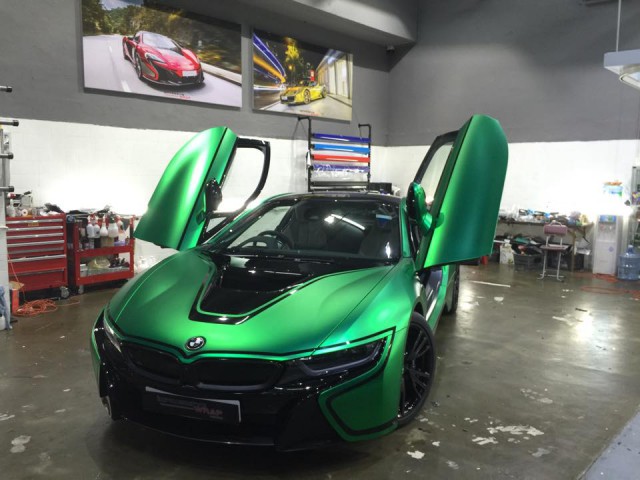 Impressive Wrap Hong Kong has been responsible for creating some of the boldest and most eye-catching wraps for a whole host of exceptional performance cars. The latest vehicle to roll through their doors was a BMW i8 and it is undeniably the brightest and jaw-dropping i8 we've come across.
The official name for the bright colour is matte green chrome and just as that name implies, it is green and combines both chrome and matte elements. The resulting finish is completely bespoke and it's inevitable that this i8 will stand out even amongst Hong Kong's greatest supercars and hypercars.
Beyond the matte green chrome finished body panels, Impressive Wrap Hong Kong has applied a number of gloss black elements particularly on the bonnet, front bumper, roof and window frames. Much of the rear fascia is also black. Completing the modifications are a selection of carbon fibre lips and side skirts.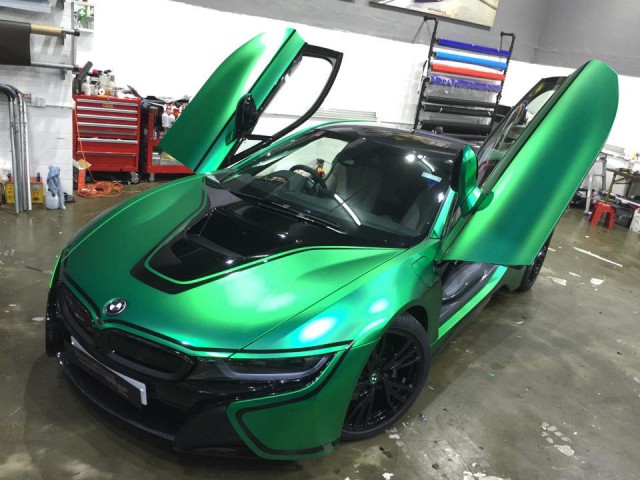 As if you didn't already know, the BMW i8 uses brand new three-cylinder petrol engine with BMW TwinPower Turbo technology. From 1.5 litres, the i8 manages an output of 231 hp and 320 Nm of torque. Power is sent to the rear wheels via a six-speed automatic gearbox. The petrol engine is supplemented by an electric motor with an output of 131 hp and maximum torque of 250 Nm.