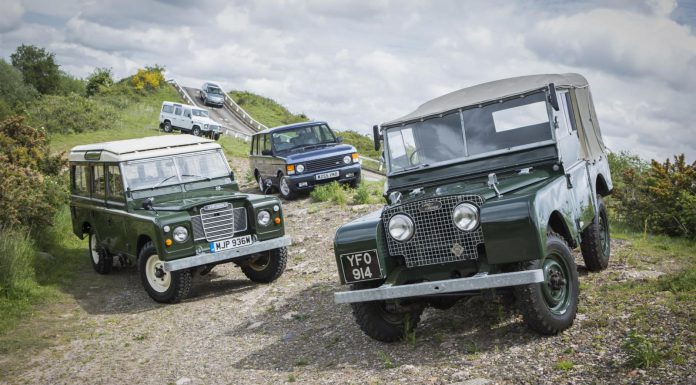 Jaguar Land Rover has just lifted the veil on its brand new Heritage Driving Experience. The experience takes place at the British marque's test facility in the West Midlands of the United Kingdom.
Affordably priced, the Land Rover Heritage Driving Experience will provide participants the opportunity to either ride shotgun or drive a selection of classic Land Rover models. The cheapest entrance cost is 40 pounds and it allows participants to ride shotgun through the test facility while a Land Rover Experience instructor drives.
[youtube]https://www.youtube.com/watch?v=iKcvnNaEkJo[/youtube]
For 85 pounds, drives of either a Series I, II or III Land Rover are offered alongside a modern Defender. For an extra 5 pounds, visitors can drive a classic Range Rover and either a Series Land Rover or a 101 Forward Control army vehicle both on the road and off the road. Next up is the Range Rover Then & Now package which is priced at 125 pounds and offers drives of a 2015 Range Rover and a Range Rover of yesteryear.
The top-of-the-range off-roading option is the Collection package costing 250 pounds. This package offers rides in a selection of Land Rover models including dedicated military vehicles.
For something different, the Le Mans Experience is priced at 750 pounds and allows participants to drive both an XKSS and F-Type R Coupe. For 2000 pounds, the Grace and Pace Experience is available. It includes a full day of driving cars like the XFR, F-Type R Coupe as well as a range of sports sedans, coupes and roadsters from throughout Jaguar Land Rover's decorated history.
[showhide]
Land Rover Launches Heritage Driving Experience
Heritage and modern Land Rovers and off-road facility added to the Land Rover portfolio of driving experiences
New UK facilities, exhibits and specially-prepared heritage vehicles
A variety of customer packages available; drive by decade or by model
Packages priced from £40 to £2000
Bookings now available at www.heritagedriving.co.uk
Fen End, UK – 4 June 2015. The new Land Rover Heritage Driving Experience is now fully open at the company's customer test facility in Fen End, West Midlands.
For the first time, customers can experience Land Rover's rich heritage through driving vehicles from the Series I that started the legend in 1948, to famous military vehicles such as the 101 Forward Control transporter and the iconic classic Range Rover on and off-road at a new customer facility in the heart of the UK.
A variety of packages will be available allowing visitors to focus on a particular decade or era, or to journey through Land Rover's heritage, right up to the present day line-up. Professional instructors will be on hand to provide direction, interesting facts and anecdotes to ensure visitors get the most pleasure and excitement from their time on the circuit or on the new off-road track. Customers will also have the opportunity to view stunning vehicle exhibits in detail and browse a fully stocked merchandise outlet.
Land Rover packages start at £40 for passenger rides with an expert Land Rover Experience instructor. Example Land Rover Heritage Experience packages include:
The Series I, II and III Vs Modern Defender (£85)
Drive a Series I, II or III, followed by today's vehicle they became – the Defender. See how Land Rover's adventurous DNA has passed from generation to generation, and how these classic machines took on the world's toughest terrains.
Land Rover Historic Drives (£90)
The opportunity to drive the vehicles that started the legend, both on and off-road, choose from an original Series Land Rover, a classic Range Rover or a more unusual creation – the 101 Forward Control – a transporter designed for the British Army.
Range Rover Then & Now (£125)
Compare the classic Range Rover with its 2015 off-spring, both on and off-road. Time behind the wheel includes a track induction for a higher speed experience, and time off-road putting both cars through their all-terrain paces.
Land Rover – The Collection (£250)
The full Land Rover Experience incorporates all the key models in the brand's history from the 1940s right up to the 2010s, including the Series Land Rovers, special military vehicles, collectible expedition-prepared vehicles and the modern line-up from Defender to Range Rover.
Complementing the newly introduced Land Rover experiences, a range of Jaguar experiences are also available:
Jaguar Experience (from £95)
Passenger rides and driving alongside a seasoned professional, visitors can choose from individual models such as an XK150 or Mark II saloon, or selected pairings such as the Series 1 and Series 3 E-type, or even an E-type with its modern counterpart, the F-TYPE.
Le Mans Experience (£750)
Re-live the experiences of legends such as Mike Hawthorn and Duncan Hamilton with drives in the iconic C and D-types that dominated the world famous 24-hour endurance race in the 1950s. This package also features drives in an XKSS and F-TYPE R Coupé, and includes lunch.
Grace and Pace Experience (£2,000)
A full day of driving Jaguar Heritage legends, from post-war racers to sports saloons, coupés, roadsters and much more, including the new XFR and F-TYPE R Coupé models. The Grace and Pace day also features opportunities to drive creations from the company's Special Operations division, and includes chauffeur-driven transfers to lunch.
Further packages are available as well as a number of gift voucher and special promotional packages as new models are added to the experience. Visit www.heritagedriving.co.uk for more details.
[/showhide]