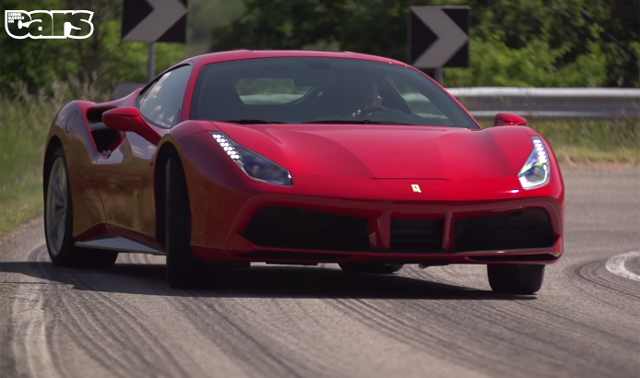 Everyone's favourite auto journo, Chris Harris, has just driven the brand new Ferrari 488 GTB. Despite previously being banned from Ferrari test drives, Harris is back in the Italian marque's good books and drove the brand new supercar at Fiorano and some of the mountain roads near Ferrari's production facility.
[youtube]https://www.youtube.com/watch?v=qlvMRTQ6-X0[/youtube]
In case you didn't know, the new 3.9-litre twin-turbocharged V8 engine of the Ferrari 488 GTB is significantly more powerful than the naturally-aspirated 4.5-litre V8 used by the outgoing Ferrari 458 Italia. As a matter of fact, the Ferrari 488 GTB delivers 660 hp at 8000 rpm as well as 560 lb-ft of torque at 3000 rpm. Incredibly, torque from this engine is also higher than the 509 lb-ft of the 6.0-litre V12 found in the Ferrari F12 Berlinetta.
Mated to the twin-turbocharged 3.9-litre V8 is a tweaked variant of the 458 Italia's seven-speed dual-clutch transmission driving the rear wheels. The gear ratios have been modified to improve acceleration throughout the rev range. When it is all said and done, the Ferrari 488 GTB will sprint to 100 km/h in 3 seconds flat, 200 km/h in a mere 8.4 seconds as well as a 334 km/h (208 mph) top speed. Those figures are almost identical to the 642 hp McLaren 650S which hits 100 km/h in the same time, 200 km/h in 8.5 seconds and a 333 km/h (207 mph) top speed.