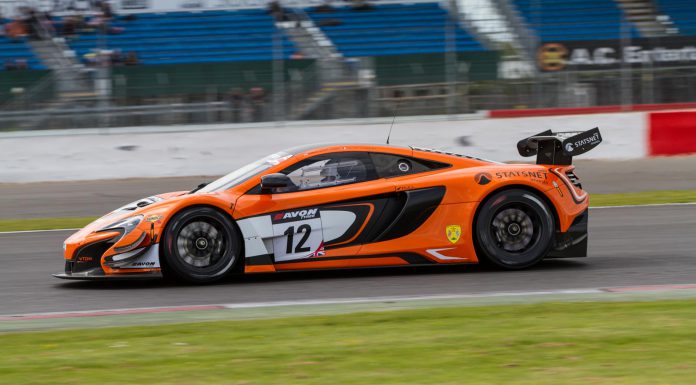 Last week at Silverstone the McLaren 650S took its first Blancpain win, fast forward a week to British GT which was also held at Silverstone and the McLaren 650S has done it again.
In previous rounds, the McLaren 650S #12 had been driven by Salih Yoluc and Euan Hankey. For this round however, there was a driver change which saw Gilles Vannelet and Adrian Quaife Hobbs take over the reigns and bring the stunning orange 650S across the line in first place after a close battle with triple Eight Racing BMW #888 driven by Osbourne and Mowle. The three hour race came down to a gap of only 0.588 of a second. Third place was taken by #1 Ecurie Ecosse BMW Z4.
The three hour race was action packed. Pole position was originally taken by #007 Beechdean Aston Martin driven by Howard and Adam. Unfortunately, the lead was lost early on lap one when the Aston spun in wet conditions. Beechdean managed to climb back up the timing sheets into fifth position.
Due to the changing track conditions, many teams opted to pit early and swap out their slick tyres then pit again later for their driver change. However, the 22GT racing team opted for a different strategy by staying out on slicks which soon played to their advantage until the Aston spun off track and halted the teams charge for first place.
The GT4 class was won by #407 Beechdean Aston Martin to take their second consecutive win of the season. This result seemed to be a stretch at the start of the race after spinning off track in the wet track conditions. However, due to several safety car stints and some impressive driving by Chadwick and Gunn this win was achievable. Second in the GT4 class was #71 Quantamatic racing Aston Martin driven by Langley and Hart while third place went to #77 Lotus Evora driven by Yusuf and Kershaw.
Driver Quotes
Gilles Vannelet, Von Ryan Racing #12 McLaren 650S GT3: "I had a great time! It was my first weekend in British GT but I raced the car at the Abu Dhabi 12 Hour earlier this year. The new McLaren is really progressive and ideal for a gentleman driver."
Adrian Quaife-Hobbs, Von Ryan Racing #12 McLaren 650S GT3: "It's an amazing result for our first weekend in British GT! I didn't know what was going on at times – we had a massive lead but then the Safety Car came out and we were eighth. I used the tyres up to try and get a gap but Joe [Osborne] was really quick. I was told I was fastest and then he caught me! The race has proven how driveable the 650S is and was fantastic all weekend. The team did an amazing job."
Lee Mowle, Triple Eight Racing #888 BMW Z4 GT3: "Fantastic! It was really challenging for me across both stints. I started out in the wet to dry and was then first out on the slicks, so it was a big learning curve for me. I'm delighted I kept it on the track and didn't let anyone down because Joe has been phenomenal this year, so all I wanted to do was hand it over to him in a place where he could do the business."