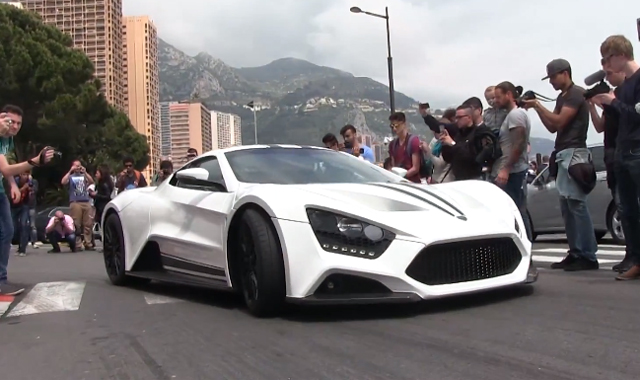 The Zenvo ST1 is an exceptionally interesting car. Initially unveiled in late 2008, it experienced a delayed development before eventually hitting the market. To this day, no official word has been given about how many ST1s have been sold and just where they reside.
What we do know is that there are a small handful around the world and two eye-catching examples were recently filmed through the streets of Monaco. One was painted white with contrasting black racing stripes while the other is painted silver and features black wheels with silver spokes.
[youtube]https://www.youtube.com/watch?v=kH3WHfN0Vxk[/youtube]
Back at the start of March in Geneva, a refined variant of the Zenvo ST1 was unveiled. The main point of difference between the new Zenvo ST1 and the current model has been the installation of a new transmission. The new gearbox has been in development for the last 12 months with transmission manufacturer CIMA and is a 7-speed 'box with a single clutch design. Interestingly, Zenvo claims that the gearbox is able to change gears in as little as 35 milliseconds making it the fastest shifting single-clutch transmission on the market.
Through the fitment of the new gearbox, Zenvo claims that the power distribution is almost non-interrupted resulting in stronger acceleration. Alongside the speed of the shifts, the new gearbox is supposedly more refined and doesn't jerk like the old one.
Under the hood, the same engine has been fitted. That engine is a twin-charged unit combining a turbocharger and a supercharger. These two forms of forced induction are mated to a massive 6.8-liter V8 engine. When it is all said and done, the Zenvo ST1 delivers 1104 hp and 1430 Nm of torque.