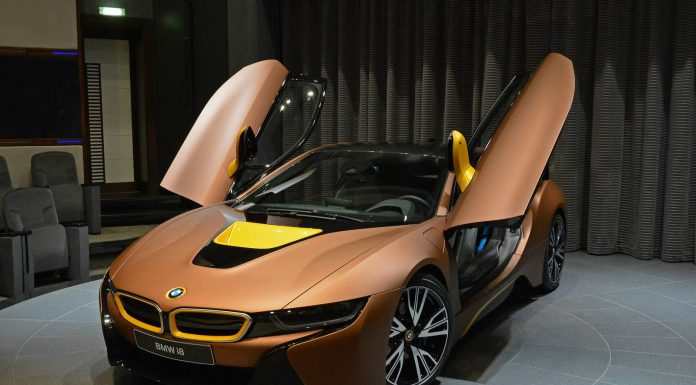 BMW Abu Dhabi consistently has some of the most eye-catching and unique BMWs on display and for sale in its exclusive showroom. Not too long ago we brought you pictures of a stunning purple BMW 7-Series at the dealer and now we stumbled upon this equally head-turning matte brown i8 currently up for sale.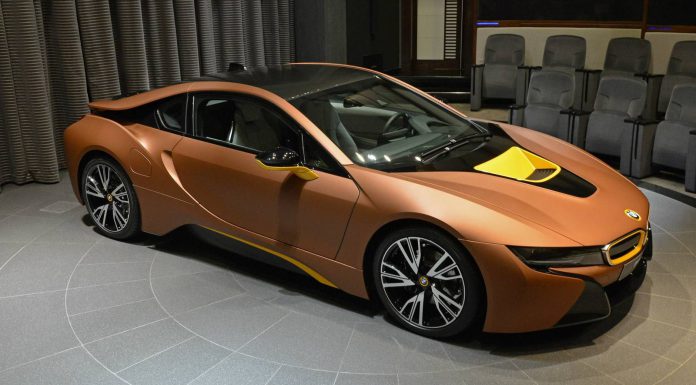 Specifics about the car remain unclear but it seems as though this is a factory finish rather than an aftermarket wrap. If that is the case, it was inevitably ordered through the BMW Individual programme. The matte brown is then combine with bright yellow accents across the front fascia, on the bonnet, the wing mirrors as well as elements of the side skirts and rear bumper.
As if you didn't already know, the BMW i8 uses brand new three-cylinder petrol engine with BMW TwinPower Turbo technology. From 1.5 litres, the i8 manages an output of 231 hp and 320 Nm of torque. Power is sent to the rear wheels via a six-speed automatic gearbox. The petrol engine is supplemented by an electric motor with an output of 131 hp and maximum torque of 250 Nm.