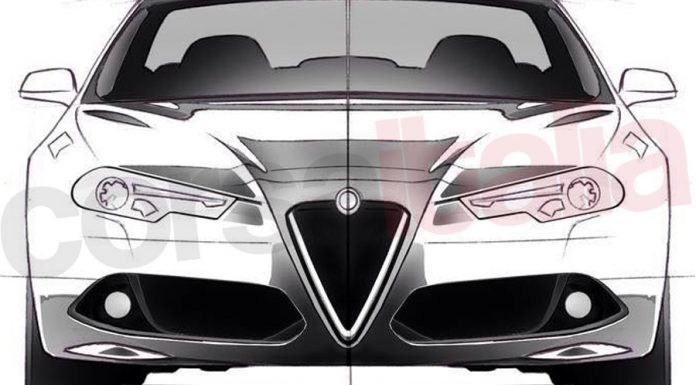 A selection of sketches reportedly showcasing the upcoming Alfa Romeo Giulia sedan have emerged online. While the authenticity of the images remains debatable, there's certainly a possibility that they are showing the real thing.
Whatever the case may be, the similarities between the car presented and other existing Alfa Romeo models are clear. The front for example is characterised by a traditional triangular grille while sharp headlights and air intakes are also found. Additionally, the Alfa Romeo Giulia presented here includes an aggressive looking bonnet joining with the grille.
The rear end of the car is then characterised by quad exhaust pipes as well as pointed taillights and a noticeable bootlid lip spoiler. From the side, its rear-end is somewhat reminiscent of the Infiniti Q50 while the front has a little bit of Jaguar XE style to it.
Not too long ago, it was confirmed that the Alfa Romeo Giulia will debut on June 24 and that it will hit the U.S. market in the first quarter of 2016. On an engine front, reports suggest that the entry-level model will use a 2.2-litre four-cylinder turbocharged diesel delivering between 135 hp and 210 hp depending on specification. Elsewhere, a 2.0-litre four-cylinder petrol which will be turbocharged and fitted with MultiAir variable valve timing will also be produced. It will be available in outputs ranging from 180 hp to 330 hp and be made available alongside either a manual or automatic transmission as well as rear-wheel drive and all-wheel drive.
If a rival is created for the BMW M3, Audi RS4 and Mercedes-AMG C63, it will apparently use a twin-turbocharged 2.9-litre V6.
[Via Corsa Italia]