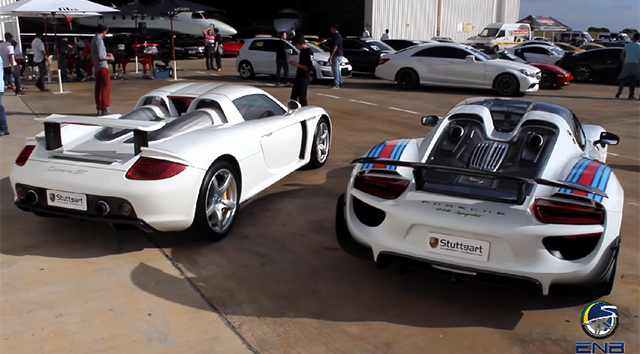 Separated by a decade, the Porsche Carrera GT and Porsche 918 Spyder each represent the cutting edge of the German firm at different times in its history. Despite their age difference, the similarities between these two supercars are still immediately apparent, particularly from a design standpoint. On a performance front however, it is a completely different story.
[youtube]https://www.youtube.com/watch?v=CHDAHw8N0k8[/youtube]
While the Carrera GT's screaming V10 engine delivers in excess of 600 hp, the following video shows just how outpaced it is by its successor. Of course, the 918 Spyder pumps out a total of 887 from its 4.6-litre V8 and two electric motors but that isn't the only reason for the thumping.
Unlike the Carrera GT which features a six-speed manual transmission, the 918 has a quick-shifting PDK gearbox mated to its engine. Additionally, the 918 is all-wheel drive so it launches off the line in a way the Carrera GT could only ever dream of!