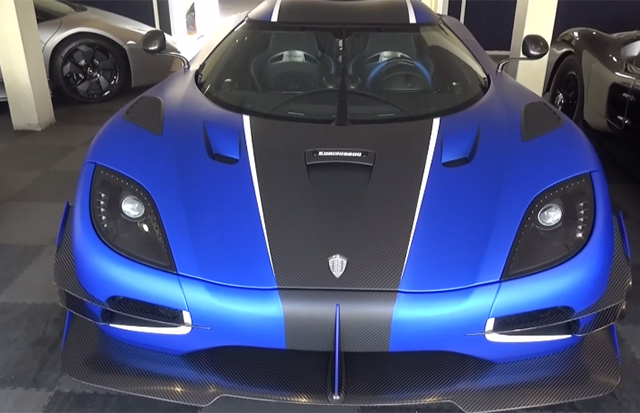 An absolutely matte blue Koenigsegg One:1 has recently arrived at British exotic car dealership Supervettura. It is believed that this One:1 is the third customer example delivered thus far and it is undeniably stunning.
Alongside the matte blue paint covering most of the Swedish hypercar, it also includes a range of matte carbon fibre elements. These include the front splitter, canards, side skirts, side air intakes and elements of the rear bumper. Additionally, this One:1 includes a carbon rear wing, decklid, louvers and wheels.
[youtube]https://www.youtube.com/watch?v=IVEjzvV1raY[/youtube]
Beneath the skin, the Koenigsegg One:1's twin-turbocharged V8 delivers 1341 hp and 1371 Nm of torque. When combined with an overall weight of just 1341 kg, the One:1 features a perfect 1 hp to 1 kg power to weight ratio. The only other production car to achieve such a figure is the Hennessey Venom GT.
The Koenigsegg One:1 is expected to reach speeds in excess of 450 km/h so aerodynamics are key to the One:1 package. Thanks to the new front facia and the Le Mans prototype inspired rear wing, downforce at 260 km/h is equal to 610 kg whilst at 440km/h, the One:1 develops 830 kg. The One:1 is able to pull 2G's of force in the corners!