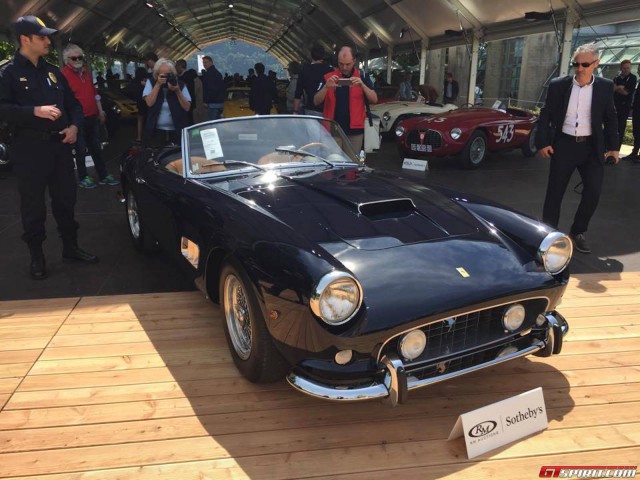 RM Sotheby's Villa Erba 2015 auction recently wrapped up and as expected, the sale saw many exclusive cars shifting hands for many millions of eurs.
The most expensive car sold by RM Sotheby's at Villa Erba 2015 was a 1961 Ferrari GT SWB Cabriolet Spider which fetched €10.25 million. Following closely behind was a 1960 Ferrari 250 GT SWB Berlinetta Competizione at 9.1 million euros. Interestingly, these cars didn't actually sell. Their owners rejected the bids as their prized assets didn't reach their expected values.
The 1961 Ferrari 250 GT SWB California Spider in question is actually one of just 16 examples ever produced with the open-headlight design and is chassis no. 2505 GT. It is also just the 18th of a mere 56 SWB California Spiders ever produced and can be distinguished from other examples residing in the U.S. as it was initially a European delivered car.
Elsewhere was a 1952 Ferrari 212 Export which brought in €6.72 million as well as a classic 1988 Ferrari 288 GTO selling for €1.9 million.
Other Ferraris to fetch over 1 million euros was a 1960 Ferrari 250 GT Cabriolet Series II (€1.4 million), Ferrari Enzo (€1.26 million) and Ferrari F40 (€1.008 million). Beyond all the Ferraris sold, a pristine 1972 Lamborghini P400 S sold for 1.01 million euros when the final hammer drop while a 1959 Mercedes-Benz 190 SL sold for €201,600, an Alfa Romeo 6C 2500 SS Villa d'Este brought in €784,000 and a 1953 Fiat 8V Cabriolet sold for €1 million.
For more from the Villa d'Este 2015 weekend, see our comprehensive live blog!