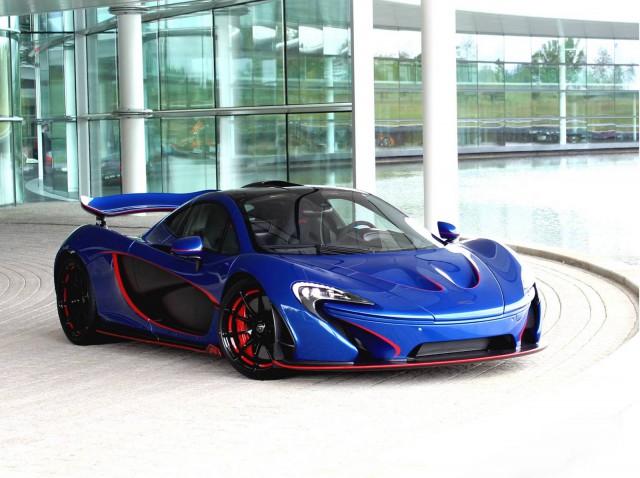 David Kyte has just taken delivery of his unique McLaren P1 customised through the McLaren Special Operations division.
Unlike both the Porsche 918 Spyder and Ferrari LaFerrari, the P1 has proven more popular for personalisation with numerous exceptionally bold and unique examples of the British hybrid hypercar already delivered.
This particular P1 features a gloss blue body but interestingly, combines the blue with bright red pinstriping and accents. For example, red can be found along the side skirts, inside the gloss black wheels, the front splitter, bonnet air extractor surrounds as well as the door surrounds. When combined with red brake calipers, this P1 really is unlike any other. In the cabin, it features a host of alcantara and carbon fibre components with the centre console finished in light blue.
The McLaren P1 is of course part of the new breed of hybrid hypercars. It features the 3.8 litre V8 M838TQ engine (upgraded from the M838T of the 12C production road car). Whilst on paper it looks to share similarities with the 12C's powerplant, that is far from the full picture. The McLaren P1 features a completely re-engineered twin-turbo variant of the V8 powerplant.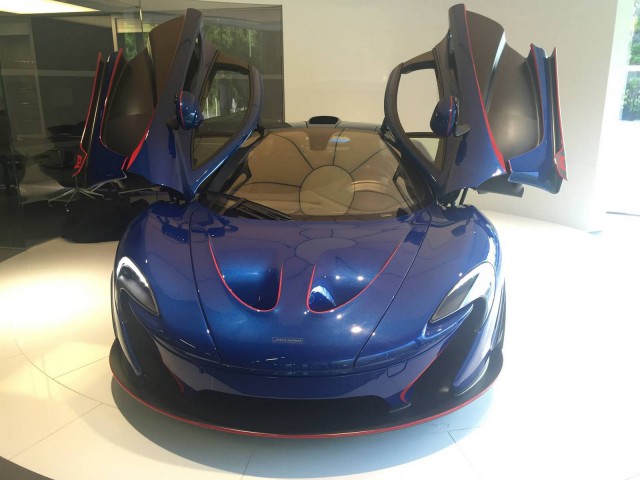 The M838TQ variant of the 3.8-litre V8 features a unique engine block casting which incorporates the electric motor. It gets all new turbochargers which run at 2.4 bar pressure, dry sump lubrication and a low sited flat plane crankshaft. On its own, the engine produces 727 hp at 7,300 rpm, and 720 Nm of torque from 4,000 rpm. The hybrid drive comes via a single electric motor mounted behind the cockpit alongside the petrol counterpart. It produces 176 bhp and 130Nm of torque with an effective torque output of 260Nm thanks to gearing.