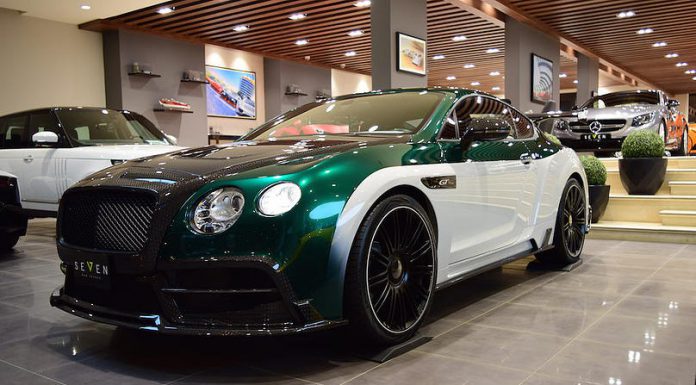 Just a couple months after debuting at the Geneva Motor Show 2015 in early March, a Mansory Continental GT Race is currently up for sale courtesy of Seven Car Lounge in Saudi Arabia. Although unconfirmed, it is quite possible that this is the exact same example that debuted at Geneva.
Mansory have made changes to the bodywork, engine and interior of the Bentley Continental GT. In many ways, this sort of tuning points back to the Bavarian company's roots as a tuner of British cars. The new design elements include the ultra-light exposed carbon fibre hood and a new front bumper with integrated daytime running lights.
As has been a more recent trend with Mansory models, the Mansory Continental GT Race receives performance upgrades too. Mansory have added a high performance exhaust system, new pistons, connecting rods, camshaft, turbocharger, intercooler, a new engine management system and a sport air filter with higher air flow.
The result is a peak output of 725 hp at 6,000 rpm compared to the series output of 567 hp at 6,000 rpm. Torque rises from 700 Nm up to a staggering 1,200 Nm at 2,100 rpm. Maximum speed is now 330 km/h whilst the Mansory Continental GT Race will accelerate from zero to 100 in 3.9 seconds. The Mansory Continental GT Race gets a set of bespoke rims with wheel-tire size combinations of 10×22 inches and 295/30ZR22 tyres.
No pricing details have been released but it's inevitable that the new owner's ride will stand out from all other Bentley Continental models!