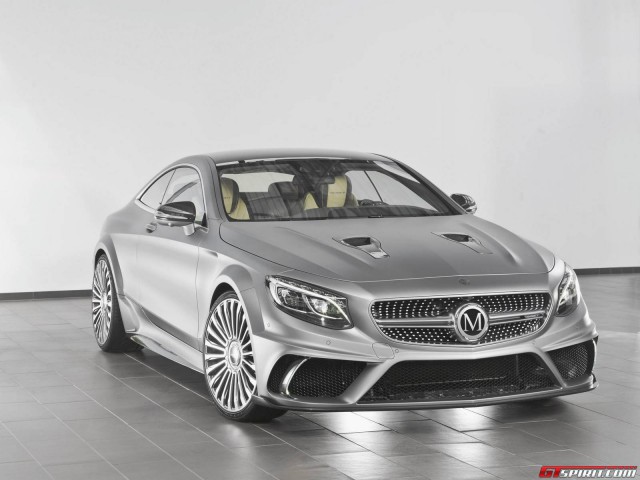 Mansory has just unveiled the latest Mercedes-Benz S63 AMG Coupe outfitted with its full range of visual, aerodynamic and performance modifications. The car in question has been upgraded with the tuner firm's 900 hp performance kit but a 720 hp kit has also been added to the 800 hp and 1000 hp upgrades previously released at the Geneva Motor Show in March.
Both the M720 and M900 models featuring a selection of upgrades to the German coupe's twin-turbocharged 5.5-litre V8 engine. Some of the most significant engine upgrades include the installation of new turbochargers, connecting rods, big end bearings, crankshaft, bearing bushings and new suction and compressor systems. In 720 hp spec, torque sits at 1100 Nm between 1600 and 5500 rpm. Meanwhile in M900 specification, the car evidently delivers 900 hp at 5700 rpm alongside 1300 Nm of torque between 1600 and 5700 rpm. In this range-topping spec, it sprints to 100 km/h in a mere 3.3 seconds and onto an electronically governed top speed of 300 km/h.
Alongside these power upgrades, the M720 and M900 packages can be joined with a host of visual changes. For example, the Mansory bodykit adds a fresh front fascia which incorporates a new bumper, refreshed lower air intake mesh and new vertical LED daytime running lights in the air intakes. Additionally, the Mansory S63 AMG Coupe includes a Mansory badge up front as well as a revised bonnet incorporating two small air intakes.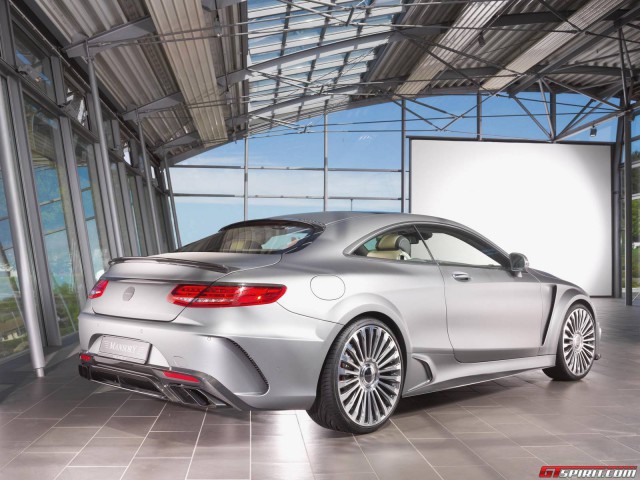 Elsewhere, the Mansory Mercedes-Benz S63 AMG Coupe has been fitted with flared wheel arches as the name of the car suggests. Alongside the flared arches 22-inch black wheels shod in 255/30 and 295/25 rubber at the front and back respectively. These wheels feature a tightly-spoked design and are unlike many of the other wheel options offered by Mansory for the plethora of vehicles it offers upgrade packages for.
Alongside the new wheels and wheel arches, the Mansory Mercedes-Benz S63 AMG Coupe includes lowered side skirts. The rear end of the car is then characterised by a subtle bootlid lip spoiler, a new bumper, different diffuser as well as quad exhaust pipes.
[showhide]
"720PS and 900PS –
new increased performance for the Mercedes Benz S63 AMG from
MANSORY.
Not long after the presentation of the performance upgrades M800 and M1000 at the
Geneva Motor Show, MANSORY Design & Holding GmbH now present two more
powerful enhanced performance models of the Mercedes-Benz S63 AMG. WIth the
power upgrades M720 and M900, MANSORY are now completing their range, which
extends all the way from smaller-scale performance optimisation, changes to turbo-
chargers and exhaust systems, all the way to an extensive re-work of the high-
performance engine. As the names suggest, 720 PS and 900 PS versions of the
coupé and saloon are now available in the form of the new power upgrades M720
and M900.
In the M720 version, optimisation of the standard ECU and amendments to the
intercooler system rouse reserves of power which are in fact present, but not used, in
the based model of the Mercedes S Class. After a simple installation process, the
5.5l V-8 Bi-turbo engine then has 530kW / 720 PS at 5.500 rpm at its disposal. At the
same time, torque increases to an impressive 1.100Nm at 1.600 – 5.500 rpm
(production model: 430kW/585 PS at 5.500 rpm and 900Nm at 2.250 – 3.750 rpm).
The specialists at MANSORY achieve considerably more power with the high-
performance kit M900: Connecting rods, big end bearings, crankshaft, bearing
bushings, turbocharger, suction and compressor system, as well as many other parts
replace the standard parts. Along with the newly designed pipe fan manifolds, this
results in superb performance figures. Instead of 585 PS (430kW), the highly-
modified S Class engine now develops 900 PS (662 kW) at 5.700 rpm, while
maximum torque goes up to an electronically limited 1,300 Newton metres at 1.600 –
5.700 rpm. So when fired, up the saloon rockets to 100 km/h in 3.3 seconds and only
stops at an electronically regulated 300 km/h.
But it's not only the engines which have been modified. The bodywork also get an
upgrade in the form of stylish MANSORY carbon fibre components. Striking
aluminium alloy wheels and a premium class automobile interior round off the all-
round upgrade perfectly.
You will find more information about the exclusive programme for Mercedes-Benz on
the www.mansory.com website"
[/showhide]