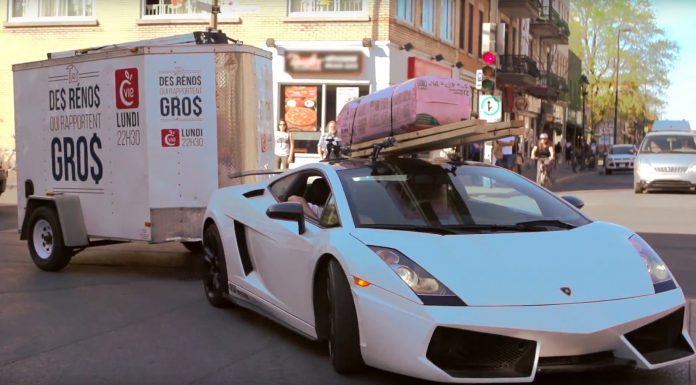 The Lamborghini Gallardo can do many things. It is more than capable of being driven through the city on a daily base as well as being the perfect companion for long road trips and high-speed blasts at the world's greatest racetracks. Well, now we can add another capability of the Italian supercar to that list with it proving quite an adept, but not necessarily suitable, work hauler!
[youtube]https://www.youtube.com/watch?v=dVX-DaqkD-M[/youtube]
The following clip was created as a promo for a Canadian French television station to promote an upcoming home improvement show. It shows the Gallardo being hitched up to a heavy trailer filled with wood while also driving around with timber and insulation strapped to the roof.
Understandably, onlookers in the Canadian city of Montreal were quite shocked at what they were witnessing.
For any Gallardo owners out there, rest well in the knowledge that your car can help you build or renovate your house!