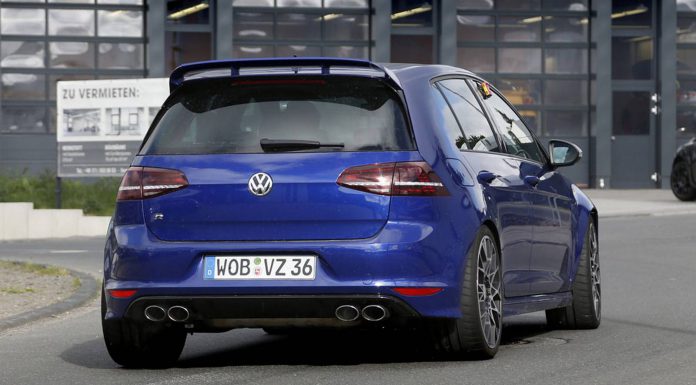 A prototype of what's believed to be the upcoming Volkswagen Golf R400 has been spied during testing near the Nurburgring.
On the surface, this test mule doesn't look dramatically different to the existing VW Golf R. This falls in line with reports that the car wouldn't look quite as bold nor outlandish as last year's Golf R400 Concept. With that being said, the following test mule can be differentiated on a number of different fronts.
For starters, it includes larger wheels and wider tyres. Hiding behind these wheels are beefed up cross-drilled brake discs while a small lower spoiler has been included on the front bumper. Meanwhile at the rear, the car features a prominent roof mounted spoiler and an aggressive diffuser. Tinted taillights have also been installed.
Underpinning the model will be VW's extremely powerful 2.0-litre turbocharged four-cylinder engine first previewed by the Audi TT 420 Concept Car. What's more, it may be fettled even further and deliver 420 hp. Whatever the final horsepower figure is, power will be inevitably sent through all four wheels.