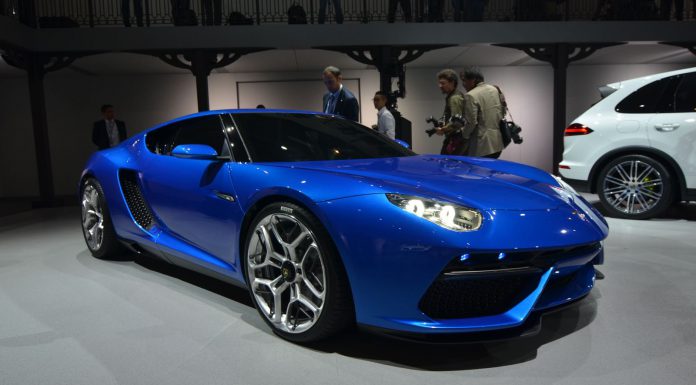 Lamborghini has confirmed that when the Concorso d'Elegance Villa d'Este 2015 kicks off in the coming days, the Lamborghini Asterion LPI910-4 Hybrid Coupe Concept technical demonstrator will be displayed.
The Italian marque is entering the car in the hope of walking away with the prestigious Design Award for concept cars and prototypes. Alongside the Asterion will be the car's chief designer, Filippo Perini of Centro Stile Lamborghini.
As a reminder, the Asterion gets the Huracan's V10 powerplant producing 602 hp and 413 lb-ft. Power is routed to the rear wheels via a 7-speed dual clutch gearbox. Power is boosted by three brushless electric motors producing 296 hp for a total figure of 898 hp. The batteries are lithium ion units mounted down the centre of the car. Power car be regenerated or topped in by plugging into a power point.
The Asterion offers three different driving modes; 'Z' for zero local-emission running, 'I' for Ibrido (Italian for hybrid) and 'T' for Termico, meaning thermal power. Power from the electric motors can be routed to just the front wheels and in fully-electric mode, it manages a range of 31 miles at speeds of up to 78 mph. Hybrid mode manages 0-100 km/h in just 3.0 seconds with a top speed of 199 mph. 98 g/km CO2 emissions are expected with an economy figure of 67 mpg.
[showhide]
"Automobili Lamborghini is participating for the first time at the Concours d'Eiegance at the Villa d'Este. The prestigious competition for classic cars takes place on 23 of May at the pare of Grand Hotel Villa d'Este, and on 24 May at Villa Erba, Cernobbio, on the shores of Lake Como.
Automobili Lamborghini will enter the Lamborghini Asterion LPI 910-4, which was presented for the first time at the Paris Auto Salon in 2014 as Lamborghini's plug-in hybrid (PHEV) technology demonstrator, to win the highly coveted Design Award for conceptual cars and prototypes. This prize was introduced in 2002 at the Concours d'Eiegance at Villa d'Este to celebrate automotive's glorious past with the innovative future. The Asterion will be accompanied on the international stage of Villa d'Este, by Filippo Perini, Head of Centro Stile Lamborghini, who designed the Asterion together with his team.
The Asterion defines a solution to significantly reducing COz emissions through innovative technologies. It features a high performance hybrid system with a V10 5.2 litre longitudinally-placed, naturally aspirated mid­ engine which, in combination with three electro motors, provides a maximum power output of 669 kW (910 hp). Asterion accelerates from 0-100 km/h in3.0 seconds, with a top speed of 320 km/h.
The Asterion LPI 910-4 guarantees unique Lamborghini driving feel with a smooth and reactive driveability and superior power. The vehicle doesn't allow only an exceptionally low COz emission of only 98g/km, but more importantly for city driving, the Asterion has a pure electric range of 50 km.
Conceived and developed entirely in-house by Lamborghini, the Asterion LPI910-4 takes the design and cutting-edge engineering expertise found in the current Lamborghini product range, adding innovative hybrid technology, and thus creating a Lamborghini that is clearly different – with a new, unexpected and sensual design, in line with the technical characteristics of the car- but yet still unmistakably a Lamborghini."
[/showhide]