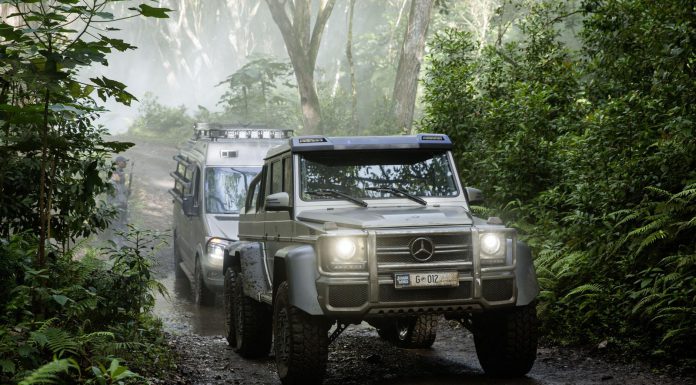 Prior to Jurassic World hitting cinemas in June, Mercedes-Benz has released a selection of images and details about its involvement in the film.
Cars from the German marque featured in Jurassic World include the G-Class, the always extreme G63 AMG 6×6, a Unimog and a Sprinter van. Additionally, the recently launched Mercedes-Benz GLE Coupe is used throughout the film.
Discussing the firm's participation in Jurassic World and other films in the franchise, vice president for marketing of Mercedes-Benz Cars, Dr. Jens Thiemer said "In 1997 the Mercedes-Benz M-Class made its first official appearance in the Hollywood Blockbuster 'The Lost World: Jurassic Park'. Today, 18 years later, another Mercedes-Benz car will debut in a significant role in the latest installment of the groundbreaking Jurassic Park series named Jurassic World: the new GLE Coupé.
"We are delighted to continue our partnership with a multitude of Mercedes-Benz vehicles and will promote the film and our cars with many exciting global marketing activities," Thiemer said.
[youtube]https://www.youtube.com/watch?v=F9H1Gwl05vk[/youtube]
As for the GLE Coupe used in the film, it is the special GLE450 AMG model and will be driven by Jurassic World operations manager Claire. Elsewhere, the aforementioned Unimog will play the role of a dinosaur ambulance.
[showhide]
Mercedes-Benz Launches Campaign to Support Universal Pictures and Amblin Entertainment's Jurassic World: The dinosaurs are back
Stuttgart. This summer, when the long-awaited next installment of the groundbreaking Jurassic Park series, Jurassic World, arrives in theaters, an entire fleet of Mercedes-Benz vehicles will share the spotlight. Alongside the iconic G-Class, Unimog, Sprinter models and the all-new GLE Coupé will play a leading role in the epic action-adventure. Mercedes-Benz will accompany the release of the film with a comprehensive co-promotional package that includes a television commercial, print and online advertising, dedicated microsites and social-media activities. The commercial, starring the Mercedes-Benz vehicles from the film, launches today in the U.S. and Europe. Additionally, a custom key visual was developed for all communication in which the all-new GLE Coupé is seen eye-to-eye with the film's fearsome Indominus rex.
"In 1997 the Mercedes-Benz M-Class made its first official appearance in the Hollywood Blockbuster 'The Lost World: Jurassic Park'. Today, 18 years later, another Mercedes-Benz car will debut in a significant role in the latest installment of the groundbreaking Jurassic Park series named Jurassic World: the new GLE Coupé", says Dr. Jens Thiemer, Vice President Marketing Mercedes-Benz Cars. "We are delighted to continue our partnership with a multitude of Mercedes-Benz vehicles and will promote the film and our cars with many exciting global marketing activities."
The Mercedes-Benz GLE 450 AMG Coupé makes its film debut as the official car of Jurassic World operations manager Claire, played by Bryce Dallas Howard. When Claire must confront a crisis well beyond what she can handle alone, she takes the new Mercedes-Benz GLE Coupé (showcasing its off-road capabilities) and joins behavioral researcher Owen (Chris Pratt) on a mission in the lush jungle of Isla Nublar.
In addition we see Owen piloting the G-Class, the patriarch of all Mercedes-Benz SUVs. The film also features the Unimog, cast as a dinosaur ambulance, as well as a G 63 AMG 6×6 and various Sprinter models. "The fleet of Mercedes Benz vehicles fit perfectly into Jurassic World. They are classy, sophisticated, and sexy — exactly what would exist in a modern international theme park", says producer Frank Marshall.
Global promotion via all channels of communication
The Mercedes-Benz promotional campaign kicks off prior to the June 12th release of the film. Starting May 18th, Mercedes-Benz will launch a TV commercial (http://mb4.me/Jurassic-World_TVC) showcasing footage of all the Mercedes-Benz vehicles appearing in the film. But it is the all-new GLE 450 AMG Coupé which will captivate viewers as the "Alpha Car". The ad is supplemented by extensive print, online and out-of-home publicity measures. In Germany, for instance, the key visual will be featured in advertisements, on posters and flyers.
Movie fans can discover more about the film and the featured Mercedes-Benz vehicles on a special Jurassic World microsite (www.mercedes-benz.com/jurassicworld) that will show exclusive behind-the-scenes material and a selection of additional images of the set, which explain how the film was created and the roles of the Mercedes-Benz vehicles. Exclusive content will be released and discussed with fans on Mercedes-Benz social media platforms (Making-Of: http://mb4.me/Jurassic-World_MO). Jurassic World model vehicles of the G-Class and G 6×6 will be available at the Mercedes-Benz Accessories online store as well as in toy retailers. Mercedes-Benz will also support the US premiere in Hollywood on June 9th and French premiere in Paris on May 29th.
About Universal Pictures
Universal Pictures is a division of Universal Studios (www.universalstudios.com). Universal Studios is part of NBCUniversal. NBCUniversal is one of the world's leading media and entertainment companies in the development, production and marketing of entertainment, news and information to a global audience. NBCUniversal owns and operates a valuable portfolio of news and entertainment networks, a premier motion picture company, significant television production operations, a leading television stations group and world-renowned theme parks. NBCUniversal is a subsidiary of Comcast Corporation.
About Jurassic World
Steven Spielberg returns to executive produce the long-awaited next installment of his groundbreaking Jurassic Park series, Jurassic World. Colin Trevorrow directs the epic action-adventure based on characters created by Michael Crichton. The screenplay is by Rick Jaffa & Amanda Silver and Trevorrow & Derek Connolly, and the story is by Rick Jaffa & Amanda Silver. Frank Marshall and Patrick Crowley join the team as producers.
Jurassic World will be released in 3D by Universal Pictures on June 12th, 2015. www.jurassicworld.com
[/showhide]