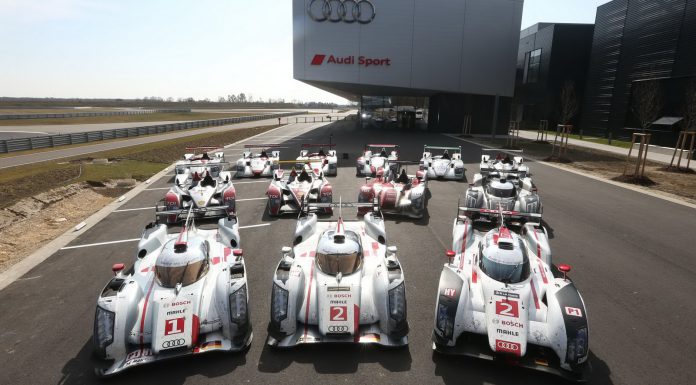 Ahead of the 2015 edition of the 24 Hours of Le Mans commencing on the 13th of June, Audi decided to organise a very special gathering of all of its Le Mans-winning prototypes ranging from the very first Audi R8 racer to last year's R18 e-tron quattro.
Rather incredibly, Audi has taken victory at the 24 Hours of Le Mans 13 times in the last 15 years placing it just behind Porsche in terms of overall race victories (Porsche has 16). The German marque's incredible Le Mans dominance started in 2000 when victory was claimed by the Audi R8 with its petrol driven 3.6-litre V8 engine. The R8 then went on to claim victory in 2001, 2002, 2004 and 2005.
The following year, the V12-powered Audi R10 replaced the R8 and it ditched petrol in favour of diesel and became the first car to win Le Mans running on diesel. It then claimed the top step of the podium in 2007 and 2008 before being replaced by the R15 TDI then the R15 TDI plus which claimed 1st, 2nd and 3rd positions at the 2010 24 Hours of Le Mans.
2011 then saw the release of the Audi R18 with it claiming victory in 2011, 2012, 2013 and 2014.