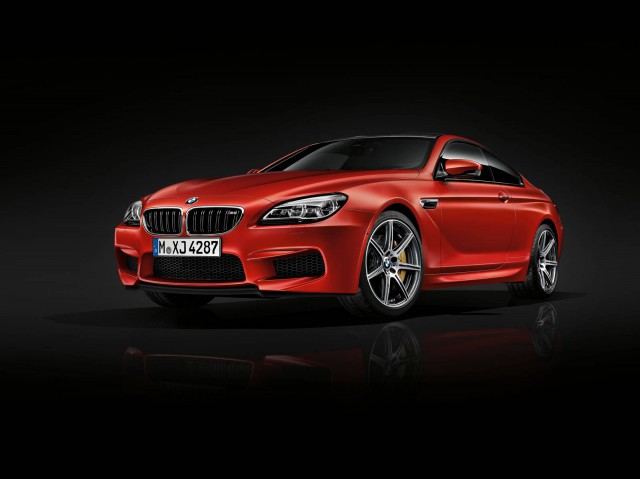 The 2016 BMW M6 Competition Package has just been unveiled. Featuring a selection of upgrades over the outgoing Competition Package, the new one includes a range of mechanical modifications among other changes.
For starters, power from the 4.4-litre twin-turbocharged V8 engine has been lifted from 575 hp in the outgoing M6 Competition Package through to 600 hp. Peak torque has also increased from 501 lb-ft through to 516 lb-ft and is available between 1500 and 6000 rpm. As a result of this immense power and torque, the BMW M6 Coupe hits 100 km/h in a mere 3.9 seconds while the M6 Gran Coupe and M6 Convertible achieve the same mark in 4 seconds flat.
Additionally, the new BMW M6 Coupe Competition Package sprints to 200 km/h in 11.8 seconds which is 0.6 seconds quicker than the previous Competition Package equipped M6 Coupe. Top speed for all models is limited to 250 km/h but that can be upped to 305 km/h with the M Driver's Package.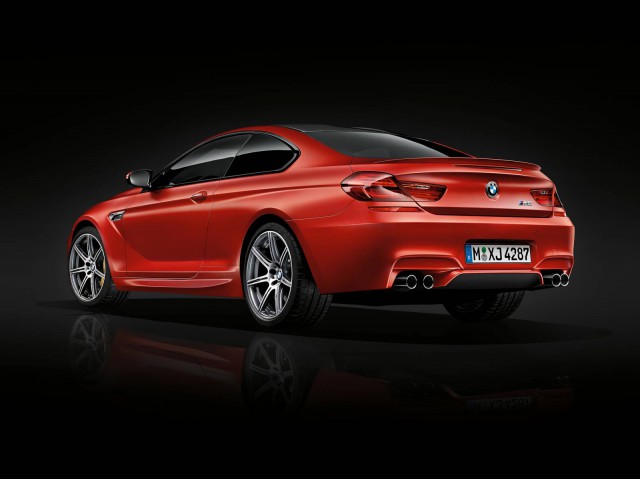 Beyond the engine tweaks, the new M6 Competition Package range includes measures to improve the vehicle's handling. With that in mind, the springs, dampers and sway bars are also stiffer than standard while the Active M Differential is also featured to optimise traction. The M Dynamic Mode of the Dynamic Stability Control system has also been changed to deliver ever sportier handling than it does in 'standard' M6 models.
Distinguishing the Competition Package apart from other M6 models are exclusive 20-inch wheels as well as black chrome tailpipes.
[showhide]
"Munich. In July 2015 BMW M GmbH will replace the existing Competition Package for the BMW M6 Coupe, BMW M6 Gran Coupe and BMW M6 Convertible with an upgraded version. The new Competition Package has been developed with a keen eye on enhancing driving dynamics. It includes a power boost for the 4.4-litre V8 petrol engine with M TwinPower Turbo technology (BMW M6 Coupe/BMW M6 Gran Coupe/BMW M6 Convertible: fuel consumption combined: 9.9/9.9/10.3 l/100 km [28.5/28.5/27.4 mpg imp]; CO2 emissions combined: 231/231/239 g/km)* of 29 kW/40 hp over the standard unit, to 441 kW/600 hp. Peak torque also rises, from 680 Nm (501 lb-ft) in standard tune to 700 Nm (516 lb-ft), and is available across an extremely wide rev band – between 1,500 and 6,000 rpm.
New personal best for the BMW M6 Coupe: 0 – 200 km/h (124 mph) in 11.8 seconds.
The three model variants impress with outstanding performance when fitted with the new optional Competition Package. For example, the sprint from 0 to 100 km/h (62 mph) is all over in 3.9 seconds in the BMW M6 Coupe and BMW M6 Gran Coupe or 4.0 seconds in the BMW M6 Convertible. What's more, the BMW M6 Coupe requires just 11.8 seconds to power from 0 – 200 km/h (124 mph), making it 0.6 seconds faster to the mark than with the previous version of the Competition Package (423 kW/575 hp). The top speed of all Competition models is electronically limited to 250 km/h (155 mph), but can be stoked to 305 km/h (189 mph) by specifying the optional M Driver's Package.
The Competition Package includes various measures designed to appreciably enrich the cars' handling. Here the same principle applies as in the development of all BMW M cars: the chassis technology is tuned precisely to the performance characteristics of the powertrain. The result is maximum performance combined with assured and precisely controllable responses at all times – even when pushing the dynamic envelope. To this end, the springs, dampers and anti-roll bars all get firmer tuning. The Active M Differential on the final drive works with its own control unit to further improve traction, allowing the driver to accelerate even more dynamically out of tight corners, for example. The steering with M-specific Servotronic function has more direct mapping while the M Dynamic Mode of the DSC (Dynamic Stability Control) system is focused even more intently on delivering sporty handling.
Externally, the BMW M6 Competition models make hearts beat faster with exclusive 20-inch M light-alloy wheels (double-spoke 601M, bi-colour) and mixed tyres, plus black chrome twin tailpipes for the sports exhaust system.
The BMW M6 Coupe, BMW M6 Gran Coupe and BMW M6 Convertible with Competition Package will be available from July 2015.
* Figures according to ECE test cycle, may vary depending on the tyre format specified.
Further information on official fuel consumption figures, specific CO2 emission values and the electric power consumption of new passenger cars is included in the following guideline: "Leitfaden über Kraftstoffverbrauch, die CO2-Emissionen und den Stromverbrauch neuer Personenkraftwagen" (Guideline for fuel consumption, CO2 emissions and electric power consumption of new passenger cars), which can be obtained from all dealerships, from Deutsche Automobil Treuhand GmbH (DAT), Hellmuth-Hirth-Str. 1, 73760 Ostfildern-Scharnhausen and at http://www.dat.de/en/offers/publications/guideline-for-fuel-consumption.html. LeitfadenCO2 (GuidelineCO2) (PDF ‒ 2.7 MB)"
[/showhide]