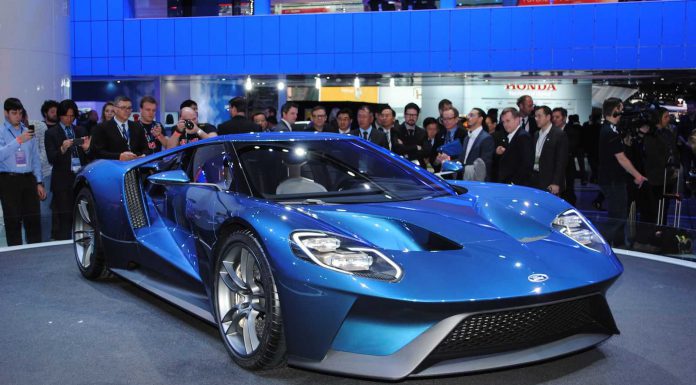 As development of the third-generation Ford GT continues, it has emerged that the new American supercar could deliver in excess of 700 hp.
When initially unveiled at the Detroit Motor Show 2015 in early January, Ford confirmed that the new GT utilises a 3.5-litre twin-turbocharged EcoBoost V6 engine delivering over 600 hp. Final specifications haven't been made official but Car and Driver believes over 700 hp is on the cards. Whatever the case may be, it is inevitable that the new Ford GT will be significantly faster than its 5.4-litre supercharged V8 predecessor.
Beyond suggesting that over 700 hp is likely, the American publication has revealed that four different driving modes will be offered for the new Ford GT. These will be Normal, Sport, Track and Wet. Additionally, advanced active aerodynamics will feature alongside variable damping as well as traction and stability control programs designed to provide the best possible performance.
Furthermore, the 2016 Ford GT features a cockpit setup similar to the Ferrari LaFerrari in that the seats and fixed to the floor and the pedal box and steering wheel adjust instead. Interestingly however, the backrests of the Ford GT will be able to recline by about 10 degrees.
Elsewhere, we know that the Ford GT will use carbon fibre heavily in its construction.
[Via Car and Driver]