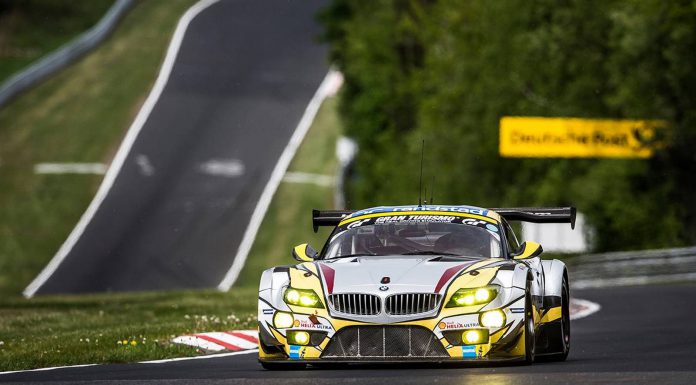 The 24 Hours of Nurburgring 2015 kicks off tomorrow at 16:00 local time in Germany, qualifying has ended after three sessions including the final shoot-out session that determined the pole winner. The following are highlights from the three qualifying sessions of the 42nd running of this historic race event. DTM driver Augusto Farfus will start from pole in a BMW Z4 GT3, Adam Christodoulou from P2 in a Mercedes-Benz SLS AMG GT3 and Dirk Muller from P3 in another BMW Z4 GT3.
The first session was held on Thursday evening going through into the night amidst mixed weather conditions. Claiming the first provisional pole were the reigning champions – Phoenix Racing with the #1 Audi R8 LMS driven by Christopher Haase, Christian Mamerow, René Rast and Markus Winkelhock. They headed the #25 BMW Sports Trophy Team Marc VDS BMW Z4 GT3 of Maxime Martin, Lucas Luhr, Markus Palttala and Richard Westbrook by a thin 0.089 seconds margin.
Audi Sport Team WRT flashed across the finish line in third and fourth with the #29 and #28 Audi R8 LMS cars. Jonny Adam, Richie Stanaway, Matthias Lauda and Stefan Mücke rounded off the top five with their Aston Martin GT3.
The second qualifying session was held on Friday morning and just like Q1, it started under wet conditions but as the track dried up the drivers began pushing their cars harder for faster lap times. Emerging fastest in this session was none other than British driver Adam Christodoulou in the #2 Mercedes-Benz SLS AMG GT3 fielded by Black Falcon, he topped the timesheet with a 8:20.034 minute lap.
The #26 BMW Z4 GT3 of BMW Sports Trophy Team Marc VDS was second quickest in the session while the #7 Works Team Aston Martin Vantage GT3 claimed the final podium spot. The #84 Works Team Bentley Continental GT3 was fourth leading the #29 Audi R8 LMS from Audi Sport Team WRT.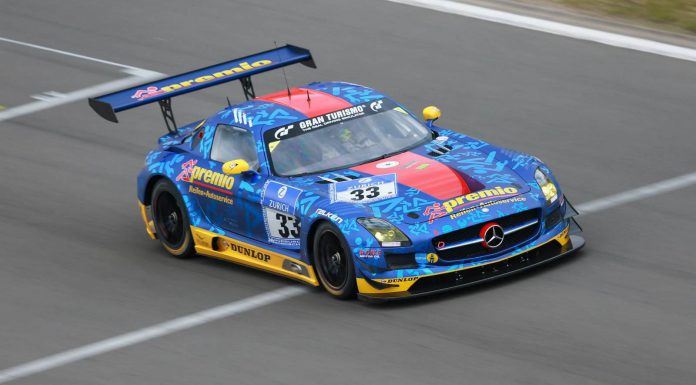 The final shoot-out session was held this afternoon, it was contested by thirty cars which had qualified in the top 30 during Q2. The cars were allowed two laps each around the Nurburgring, leaving the start line with gaps between them – unlike Q1 and Q2, the weather during this session was nothing short of perfect.
Aston Martin's Stefan Mucke was the first to set a time of 8m21.588s which was later beaten by Maxime Martin in the Marc VDS BMW Z4 GT3 with a 8m20.464s. Lance David Arnold went even further below with a 8m19.592s in his Bentley Continental GT3 before DTM star Augusto Farfus came flying with a 8m17.531s time in the #26 Marc VDS BMW. Nobody was able to beat this time, he even managed to slash it to a further 8m17.394s to claim a sensational pole for tomorrow's main race.
The #2 Black Falcon Mercedes-Benz SLS AMG GT3 set the second fastest time and will start in P2. Jens Klingmann was third fastest for BMW and will start in P3 ahead of another BMW of Dirk Muller. Here is the 24 Hours of Nurburgring 2015 free livestream.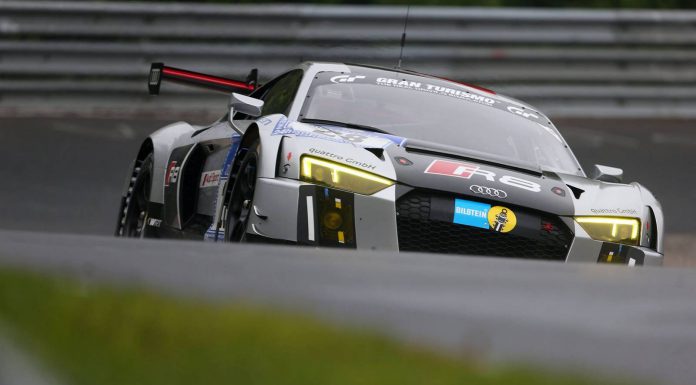 The Top 10 Results:
1 Augusto Farfus (BMW #26) 8m 17.394s
2 Adam Christodoulou (Mercedes #2) 8m 18.341s
3 Jens Klingmann (BMW #20) 8m 18.814s
4 Dirk Müller (BMW #19) 8m 18.886s
5 Pierre Kaffer (Audi R8 LMS #29) 8m 19.058s
6 Maxime Martin (BMW #25) 8m 19.323s
7 Nico Müller (Audi R8 LMS #28) 8m 19.437s
8 Lance David Arnold (Bentley #84) 8m 19.592s
9 René Rast (Audi R8 LMS #1) 8m 19.766s
10 Frank Stippler (Audi R8 LMS #4) 8m 19.796s