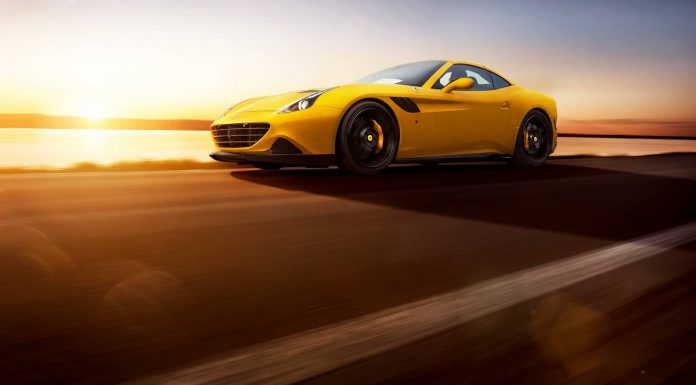 Novitec Rosso's latest tuning package beefs up the Ferrari California T. The California T was announced back in February last year, prior to its official debut at the Geneva Motor Show 2014. Since its release, very few tuners have been brave enough to develop a comprehensive package. The Novitec Rosso Ferrari California T adds some aditional power together with some aerodynamic pieces and interior parts.
The Novitec Rosso Ferrari California T gets an extra 86 hp and 101 Nm of torque, thanks to a unique mapping developed for the twin-turbocharged 3.8 litre V8 engine. In total, peak power is not 646 hp from 7,400 rpm and produces its peak torque of 856 Nm at 4,600 rpm. The California T sprints to 100 km/h in just 3.3 seconds with a terminal speed of 323 km/h.
The exterior gets a clear-coated carbon-fiber front spoiler, inserts for the two air intakes in the hood, gill-shaped covers for the side air outlets, clear-coated carbon-fiber covers for the two exterior mirrors and a carbon-fiber radiator grille. Novitec Rosso also fit a set of rocker panels and side flaps and a clear-coated carbon-fiber roof skin for the folding hardtop.
At the back, the Novitec Rosso Ferrari California T includes a rear diffuser with clear-coated carbon-fiber diffuser fins together with a rear spoiler lip, a carbon-fiber rear trim panel and carbon-fiber covers for the tail lamps. To release a greater sound from that new engine, the stainless-steel high-performance exhaust gets an actively controlled butterfly valve.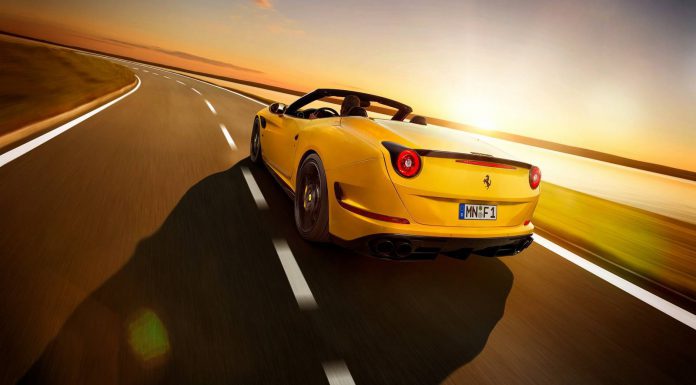 The NF4 wheels measure 21 inches at the front and 22 inches at the rear with 9Jx21 sizing at the front and 12Jx22 sizing on the rear axle. They are one-piece, lightweight forged units and come shod with Pirelli rubber. Novitec Rosso sports springs complement the setup by lowering the ride height by about 35 millimetres. A hydraulic front lift system allows the front end to rise by 40 millimetres at speeds of up to 80 km/h.
As with all Novitec Rosso cars, the California T can be personalised both inside and outside. Novitec Rosso can fit the finest leather and Alcantara in a multitude of upholstery colours and patterns.