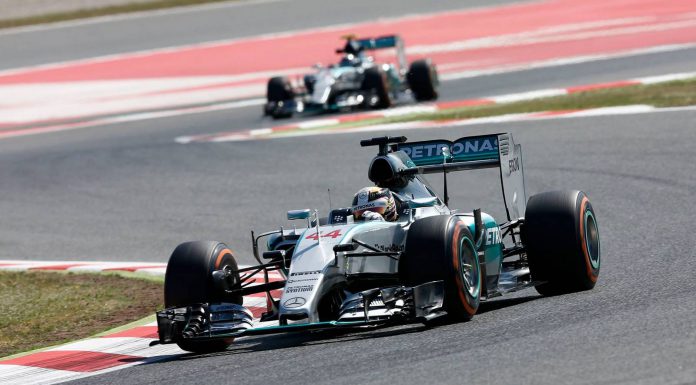 Nico Rosberg has won his first race of the season at the Formula 1 Spanish Grand Prix. Giving Mercedes-AMG a double podium win was Lewis Hamilton who finished in P2 while Ferrari's Sebastian Vettel claimed P3 after a hard fought race with the Silver Arrows. Bottas finished in P4 while Raikkonen rounded off the top five. With Fernando Alonso out of the way, Carlos Sainz Jr. was the only Spanish driver within points range, he finished in P10.
The entire field started on medium rubber with Rosberg leading the formation lap for the first time this season. The top three starters Rosberg, Hamilton and Vettel managed to save a set medium tires each during qualifying which would come in handy during the race. With a lot of shuffling during lap1, Rosberg managed to stay in the lead while Hamilton dropped down to third behind Vettel. Raikkonen passed both Toro Rosso's pushing Verstappen to sixth and Sainz to seventh- it was a go from this point on!
Rosberg was within DRS range during lap3 and he used it to increase the gap between him and Vettel to 1.6s. Hamilton reached out to his engineer informing him that it would be impossible for him to close down on P2, a message which was replayed on Vettel's radio for obvious reasons. Elsewhere, the Toro Rosso duo was losing positions to Felipe Massa, and Lotus' Pastor Maldonado. Verstappen was pushed down to eighth while Sainz was kicked out of the top ten to sit in eleventh.
Hamilton was the first of the top starters to make a stop for fresh tires, he picked up a set of new medium tires in what was rather a slow stop. He rejoined the race in P7 behind Maldonado but worked his way up quickly by setting the fastest time and back into P3. Rosberg pitted too leaving the lead to Raikkonen but was back in P1 with Vettel in P2. Maldonado suffered a rear wing damage that cost him P6 moving him all the way down to 18th, he however set a personal best time while at it.
McLaren was doing well today with Alonso being the only driver to not have pitted up to lap23 where he was running in P7. He rejoined in P14 but still the best for McLaren as Button was way back in 17th. As a reminder, the Spanish Grand Prix is one of the oldest having celebrated its 100th anniversary in 2013. Michael Schumacher holds the highest number of wins at 6 while Raikkonen and Alonso hold two wins each alongside Ayrton Senna and Mario Andretti.
Hamilton pitted again and rejoined the race behind Button on lap34, he worked his way up to sit behind Bottas in P4. Meanwhile, Rosberg was only extending the gap between him and Ferrari which went to a high of 8 seconds. Up to the 45th lap, the top three were intact, Bottas was fourth with Raikkonen right behind him. After struggling in 17th for a long time, Lotus recalled Maldonado back to the garage where his car was retired.
Rosberg pitted on lap 45 leaving the lead to his teammate, he rejoined in P2 but the two had an extravagant lead over the Ferrari's- enough to make another stop without losing positions. Hamilton pitted again for a fresh set of medium tires on lap 51 and rejoined in P2 behind Rosberg who had snatched back the lead, good for Mercedes but unsatisfying for the Briton.
There was a 20s gap between the Silver Arrows but less to worry about was Ferrari who were a little late for the final party. Traffic distracted Vettel who sat further back in third with Bottas holding on to P4 and Raikkonen in P5 with 4 laps left to go.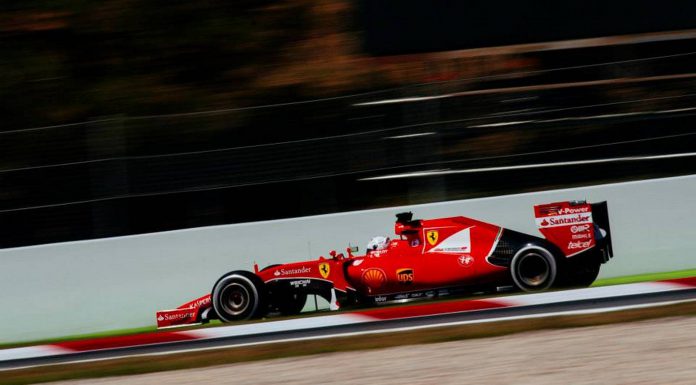 Practice and Qualifying
The Silver Arrows kicked off practice sessions by topping the timesheets on Friday Morning. Nico Rosberg was quickest at 1m 26.828s leading teammate Lewis Hamilton who posted a time of 1m 26.898s. Ferrari set the third and fourth fastest times with Sebastian Vettel and Kimi Raikkonen respectively.
Toro Rosso had their game strong this weekend with homeboy Carlos Sainz taking fifth ahead of teammate and rookie Max Verstappen. McLaren's Fernando Alonso had an early spin which he survived at Turn 12, he finished 15th followed by the other McLaren of Jenson Button.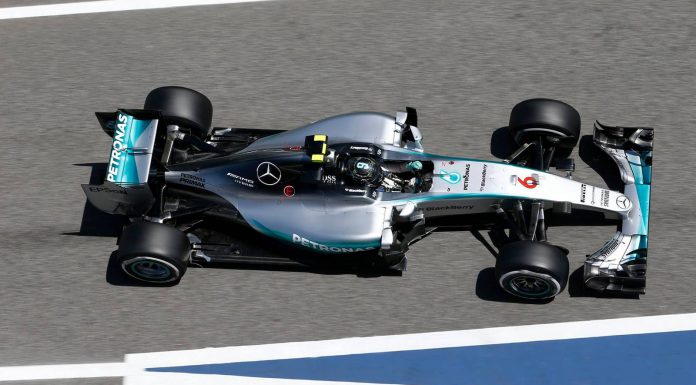 Hamilton turned things around in FP2 by setting the quickest time ahead of Ferrari's Vettel – 1m 26.852s against 1m 27.260. Rosberg was third leading the other Ferrari of Raikkonen. Vettel complained of vibrations while running on soft tires while Rosberg complained of problems during downshifts. The afternoon session was engulfed by ambient track temperatures ranging from 26 to 29 degrees Celsius.
Daniil Kvyat was fifth fastest for Red Bull during this session while Verstappen placed Toro Rosso in sixth ahead of a surprising McLaren of Button. Alonso improved over his FP1 time to finish in 11th albeit complaining of his ERS systems failing to charge.
FP3 was nearly a repeat of FP1 session albeit with Vettel sitting between the Silver Arrows. Rosberg set the quickest time with a 1m 26.021s away from Vettel's time of 1m 26.177s. It was a matter of choosing the best tires, with Rosberg going from hard to medium in order to score his luck. Vettel switched to soft rubber late in the session but was only able to shave enough time to put him in second. Hamilton was third with 1m 26.222s.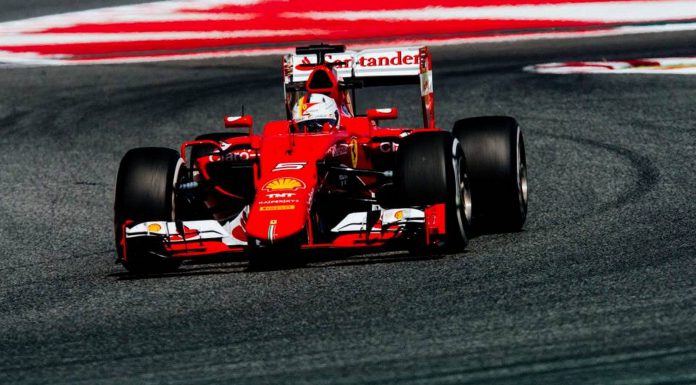 Qualifying revolved around an interesting set of times from Mercedes and Ferrari, however it was Rosberg who claimed pole after winning both Q2 and Q3. Hamilton ensured an all Mercedes front row lock out by finishing second ahead of Ferrari's Vettel. Valterri Bottas was fourth in his Williams while Toro Rosso took P5 and P6 with Sainz and Verstappen respectively.
The next F1 round will head over to Monaco from May 21st to 24th.