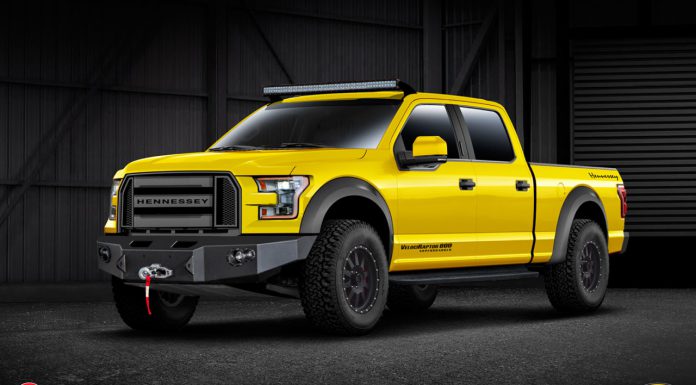 After being revealed late last year, production of the potent 2015 Hennessey Performance VelociRaptor 600 has officially commenced. In typical fashion from the Texas-based tuner, the new VelociRaptor 600 features a boost of power over the standard car as well as a number of other enhancements.
Beneath the skin, the VelociRaptor 600 Supercharged features a supercharged V8 engine running at 8 psi. This potent engine also features upgraded fuel injectors, a new engine management system as well as a complete stainless steel exhaust. When it is all said and done, the engine now delivers over 600 hp compared to the 385 hp of the stock engine.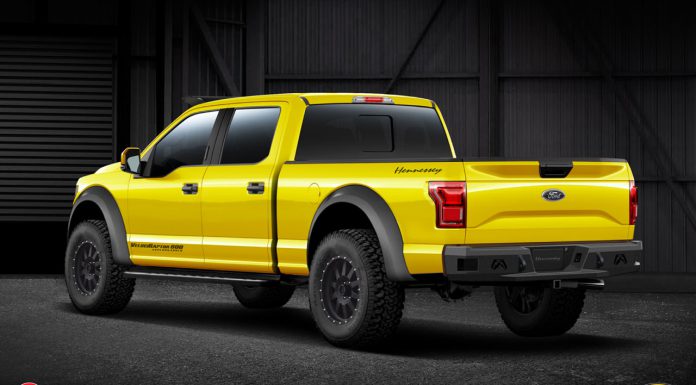 Elsewhere, the VelociRaptor 600 Supercharged includes massive 33-inch BFGoodrich tyres mounted to 17-inch Hennessey wheels which look absolutely tiny compared to the car. Hennessey Performance also offers a selection of other upgrades for buyers include off-road coilovers, refreshed front and rear bumpers as well as beefed up Brembo brakes and an LED light bar.
Discussing the car, John Hennessey said, "We've built over four-hundred VelociRaptor 600 Supercharged Ford trucks over the past four years. We are simply picking up where we left off with our 2015 VelociRaptor. Having Ford's world-class new truck design, with a weight savings of nearly 700 pounds, our VelociRaptor 600 Supercharged will have an even greater level of performance and driving excitement!"
Just 500 units of the VelociRaptor 600 Supercharged will be created with each starting at $73,500 include the 2015 Ford F-150 FX4 Super Crew 5.0L V8 donor car.