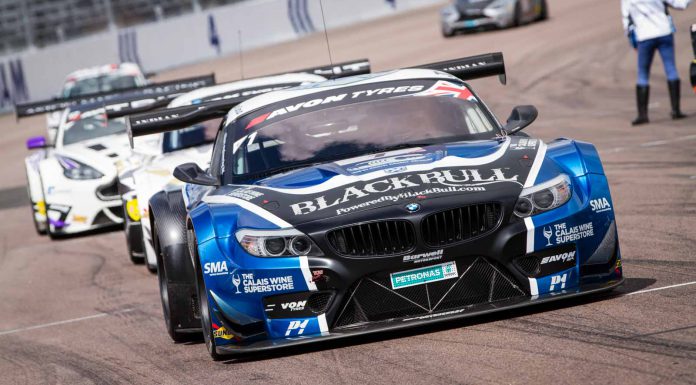 The second round of the British GT Championship was held on 2-3rd May 2015 at Rockingham Speedway Circuit in Corby, United Kingdom. The pole position for GT3 was taken by N0 1 BMW driven by Attard and Sims. GT4 Pole went to NO 407 Beechdean Aston Martin driven by Chadwick and Gunn.
After the first round of the Championship held at Oulton Park the Championship was being headed up by Griffin and Butcher in the No 6 Oman Racing Aston Martin.
The start of the race saw the No 1 BMW head off in pole position, this was soon taken off them when Andrew Howard stormed into the lead in the No 007 Beechdean Aston Martin. There was further action on the first lap when the McLaren driven by Yoluc took out the other McLaren driven by Ross Wylie.
With twenty minutes raced the No 007 Aston lost the lead to No 1 BMW driven by Attard and soon No 007 dropped down the field into fifth behind three other Aston Martins, No 2, No 6 and No 17.
The GT4 Class was being dominated from the start by Jamie Chadwick in the No 407 Beechdean Aston Martin and had an eighteen second lead prior to the pit stop and driver change.
Once the pit stops had been completed and the field levelled out, the lead was taken by No 2 Aston driven by Lloyd, No 001 in second and No 6 in third. The GT4 Class was still lead by No 407 Aston, now taken over by Ross Gunn.
After the leading duo battled out for the front of the field, they soon came into touching distance of two back markers. Unfortunately for No 2 Aston driven by Lloyd he over shot the corner and rather than hit the other car he went wide and lost first place. This was taken by No 1 BMW driven by Sims.
With thirty minutes remaining of the two hour race, the GT4 Class was still being led by No 407 Beechdean Aston Martin, the lead of eighteen seconds given to Gunn at the driver change had grown to a staggering forty-eight seconds ahead of the No 50 Ginetta G55. The No 407 took the class win overall after an astounding race by the Aston Martin Racing Evolution Academy Programme duo.
By the end of the race the lead stayed the same giving the race win to No 1 BMW, ahead of No 2 Aston, No 6 Aston, No 30 Mercedes and No 17 Aston in Fifth.
With only two rounds of the season completed its fair to say that the Aston Martins look a force to be reckoned with.