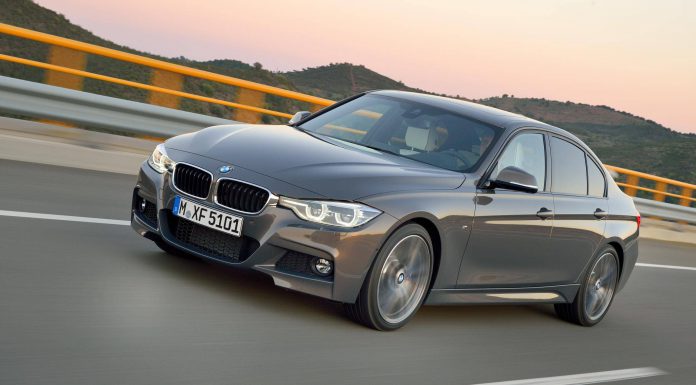 BMW has refreshed the 3-Series model range by adding new engines and models as well as visual upgrades. For 40 years the BMW 3-Series has headlined BMW sales with over 14 million units sold to date – a quarter of all BMW cars sold today come from the 3-Series model range.
The new 3-Series Saloon and Touring models which go on sale later in July have received minimal exterior styling upgrades while the interior gains new materials alongside upgraded technology. The BMW "eyes" are now further apart ushering in a broader look, full-LED headlights are optional but standard in the rear lights for all models including the M3. New models include the 340i which replaces the 335i and the 318i – with a new 3-cylinder unit – replacing the 316i.
Highlighting the exterior styling is the new optional LED headlights with LED indicators positioned above them as "eyebrows". These units come with an optional camera-based BMW Selective Beam system which with the help of an anti-dazzle High Beam Assistant adjusts the right amount of light on the road without affecting oncoming traffic. Models with the standard headlights still get LED light strips, full LED rear lights with "L" shaped light strips and integrated LED brake lights.
The new BMW 3-Series Touring and Saloon models feature new exhaust stylings with the top ranging 340i getting individual 80mm tailpipes on the left and right. The 320i and 320d have dual 70mm tailpipes while entry level models get a 75mm tailpipe. Drivers will be able to choose from different wheels sizing up to 20 inches from the Original BMW Accessories range.
The interior of the new 3-Series continues to improve over what is already available in the previous model. High gloss black and chrome accents are extensively used on the center control panel and center console across the Luxury, Sport and M-Sport models. There are new cup holders in the center console with sliding covers and additional space for items such as smartphones.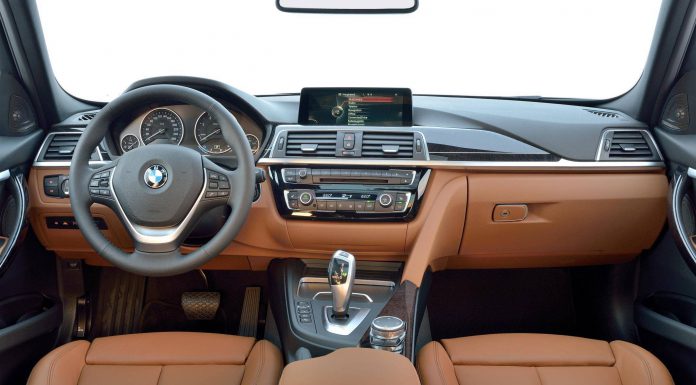 Individualization continues to strike in both Luxury and Sport models while the M-Sport package furthers these features. Luxury models come with bi-colour 18- inch light-alloy wheels in a multi-spoke design as standard while M-Sport models add a variety of items such as M Sport suspension and M leather steering wheel, not to mention the M aerodynamic, front sport seats and Driving Experience Control switch with additional "Sport+" mode.
Drivers can choose from 16 colors available for the new 3-Series, they include Mediterranean Blue metallic, Platinum Silver metallic and Jatoba metallic while Estoril Blue metallic is reserved for M-Sport models only. The BMW M3 enjoys additional colors from BMW Individual namely Tanzanite Blue metallic and Azurite Schwarz metallic as well as Smoked Topaz metallic and Champagne Quartz metallic.
Powering the new BMW 3-Series range is a choice of four petrol engines and seven diesel engines. Petrol engines feature 3, 4 and 6 cylinder units while the four-cylinder diesel engines found in the 316d, BMW 318d and BMW 320d are sourced from the newly developed modular BMW EfficientDynamics engine family that features the new BMW TwinPower Turbo technology. Elsewhere, all the petrol engines come with an exhaust-manifold-integrated turbocharger that ensures exhaust gases travel for shorter distances to the turbocharger resulting to quicker throttle response.
The entry level petrol engine in the 318i model is a 3-cylinder 1.5 liter unit that provides exceptional performance despite its size. It's rated at 136hp and 220 Nm of torque which can be increased to 230 Nm with an overboost function activated through a kickdown. This unit returns impressive fuel consumption figures of up to 54.3mpg and 51.4mpg in the Saloon and Touring models respectively.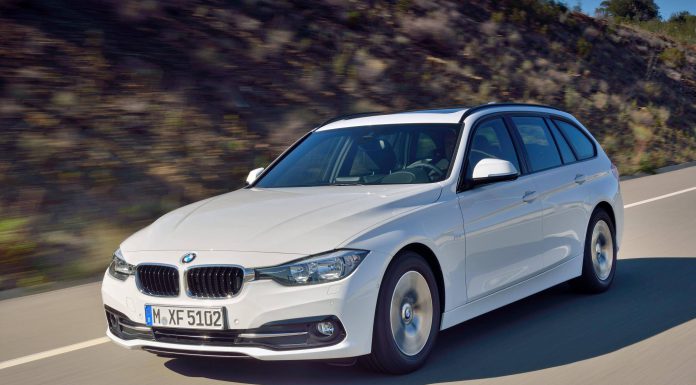 There is also a new four-cylinder petrol engine fitted in the 320i model and 330i that replaces the 328i model. The unit is rated at 184hp and 290 Nm of torque with a six-speed manual and rear-wheel drive in the 320i model; and 252hp and 350 Nm of torque in the 330i model. Highlighting the petrol engines is a 3 liter six-cylinder unit found on the new 340i that replaces the 335i. This unit is rated at 326hp and 450 Nm of torque with eight-speed Steptronic transmission as standard – allowing it to achieve naught to 100 km/h in just 5.1 seconds.
Two notable new models in the new 3-Series range are the BMW 320d EfficientDynamics Plus and the BMW 330e plug-in-hybrid which will join the market in 2016. The 320d ED Plus is powered by a 2.0-litre turbodiesel engine rated at 163hp and 400 Nm of torque, it has a fuel consumption of 74.3mpg. The 330e is powered by a 184hp 2.0-litre petrol engine accompanied by a 80 kW electric motor that result to 252hp and 420 Nm altogether. The fuel consumption is rated at 134.5mpg.
The new BMW 3-Series can be ordered with either a six speed manual transmission or an eight-speed Steptronic transmission, the latter is standard on the BMW 330d, BMW 335d and BMW 340i. The BMW 320i, 320d and 330d can be ordered with xDrive intelligent all-wheel drive, this is standard in the 335d model.
Additional features in the new 3-Series are offered by the BMW ConnectedDrive. They include Business Navigation which is standard in all models and the new Professional Navigation which is optional but standard in the M3. The new BMW 3-Series supports LTE mobile technology for faster data speeds in rural areas which comes in handy with the optional full-colour, high-resolution Head-Up Display.
Lastly but not least is the Parking Assistant feature which aids the driver to park into parallel spaces and spaces that are perpendicular to the road. At speeds below 22mph all the driver has to do is control the throttle, braking and gear shifting between reverse and forward. Prices for the new BMW 3-Series will be announced soon before it's availed in the market in July.
[showhide]
The BMW 3 Series is the founder of the modern sports sedan segment and has been fêted as an icon of this vehicle class for 40 years. Over what is now six model generations, the BMW 3 Series has set the standard for dynamic excellence, efficiency and design, forging an emotionally rich connection between a sporting driving experience and unbeatable everyday practicality. Around one in every four BMWs sold is a BMW 3 Series Sedan or BMW 3 Series Touring, which makes this model series the most successful in the BMW brand's line-up. Sharper design, even more advanced technology and cutting-edge engines ensure the new BMW 3 Series Sedan and new BMW 3 Series Touring are a more attractive proposition than ever before. The new BMW 3 Series model range will be available with an extensive spread of engines from launch. Four petrol units and seven diesels are available, developing from 85 kW/116 hp to 240 kW/326 hp (combined fuel consumption: 7.9–3.8 l/100 km [35.8 – 74.3 mpg imp]; combined CO2 emissions: 185–99 g/km). They can be linked up with a six-speed manual gearbox and an eight-speed Steptronic transmission (standard on the BMW 330d, BMW 335d and BMW 340i Touring). The new BMW 3 Series is available with classical rear-wheel drive or BMW xDrive intelligent all-wheel drive, depending on the model.
Great exterior presence, sophisticated and high-quality interior.
The design of the new BMW 3 Series stands out with even greater precision and various detail improvements. At the front end, new aprons with revised air intakes accentuate the feeling of width, while the sensor for the optional Active Cruise Control (ACC) is harmoniously integrated into the central air intake. The sculptural rear apron design, including a Line-specific trim element, and standard LED rear lights likewise emphasise the car's width and thus its sporting appearance. An innovative lighting concept, featuring newly designed headlights and striking LED daytime driving lights, underlines the car's sporty and powerful visual appeal. Full-LED headlights can now be specified as an option. The interior, meanwhile, makes an even classier impression with new materials and additional chrome highlights for the controls, air vents and central control panel. The newly crafted centre console with a sliding cover for the cupholders enables better use of the storage surfaces forward of the gearshift lever and takes the outstanding ergonomics of the BMW 3 Series to an even higher level. A wide range of personalisation options as far as upholstery and interior trim elements are concerned, as well as new wheels, exterior colours and equipment options, round off the specification choices for the new BMW 3 Series.
Setting the benchmark – even sportier, even more efficient.
All the three-, four- and six-cylinder petrol engines for the BMW 3 Series model range and the four-cylinder diesel units in the BMW 316d, BMW 318d and BMW 320d are now sourced from the newly developed, modular BMW EfficientDynamics engine family. Features including revised turbochargers help give the new four-cylinder diesel engines even sharper responses, while the three-cylinder petrol engine is a new addition to both the BMW 3 Series model range and the segment as a whole. Making its BMW 3 Series debut is the four-cylinder petrol engine in the BMW 320i Sedan/BMW 320i Touring (combined fuel consumption: 5.9–5.3/6.3–5.5 l/100 km [47.9–53.3/44.8–51.4 mpg imp]; combined CO2 emissions: 138–124/147–129 g/km)*. Celebrating their world premiere, meanwhile, are the four-cylinder unit in the BMW 330i Sedan/BMW 330i Touring (combined fuel consumption: 6.5–5.5/6.7–5.8 l/100 km [43.5–51.4/42.2–48.7 mpg imp]; combined CO2 emissions: 151–129/157–135 g/km)* as well as the six-cylinder petrol unit in the BMW 340i Sedan/ BMW 340i Touring (combined fuel consumption: 7.7–6.5/7.0–6.8 l/100 km [36.7–43.5/40.4–41.5 mpg imp]; combined CO2 emissions: 179–152/164–158 g/km)*. Despite their superior power, further improvements have also been made to the efficiency of the engines; fuel consumption and CO2 emissions are down by as much as 11 per cent. The new 320d EfficientDynamics Edition Sedan (combined fuel consumption: 4.3–3.8 l/100 km [65.7-74.3 mpg imp]; combined CO2 emissions: 113–99 g/km)* develops 120 kW/163 hp, yet emits just 99 g/km of CO2 when the eight-speed Steptronic transmission and standard tyres are specified. Indeed, the new transmissions also contribute to the increased efficiency of all variants.
On cars specified with the six-speed manual gearbox, the engagement speed control function automatically blips the throttle on downshifts, for example. The eight-speed Steptronic transmission allows multiple sequential downshifts, which has a positive effect on smoothness and acoustics. The coasting function, meanwhile, increases efficiency by another notch. The further developed dampers, stiffer suspension and even more precise steering of the new BMW 3 Series ensure a clear elevation of the new BMW 3 Series' dynamic potential, combined with the same impressive ride quality as that of its predecessor.
New Navigation system Professional and LTE mobile technology.
BMW plays a leading role in the link-up of driver, vehicle and outside world. Its BMW ConnectedDrive range of products and services offers a unique selection of web-based services and innovative driver assistance systems designed to enhance comfort and improve safety. For example, the full-colour BMW Head-Up Display in the new BMW 3 Series enables all relevant information to be displayed directly in the driver's field of vision, leaving the motorist to concentrate fully on the road ahead. The Navigation system Professional impresses in city centres, in particular, with quicker start-up, significantly faster route calculation and even more realistic 3D graphics. The navigation maps are automatically updated free of charge for a period of three years. In the owner's home region, the embedded SIM card allows these updates to take place automatically over the air via the mobile phone network. The new BMW 3 Series is the first model (depending on the equipment specified) in the premium mid-size sports segment to support the fastest current mobile technology standard (LTE). The Parking Assistant now enables automatic parallel parking as well, while Auto PDC also automatically activates the front parking sensors when manoeuvring.
[/showhide]