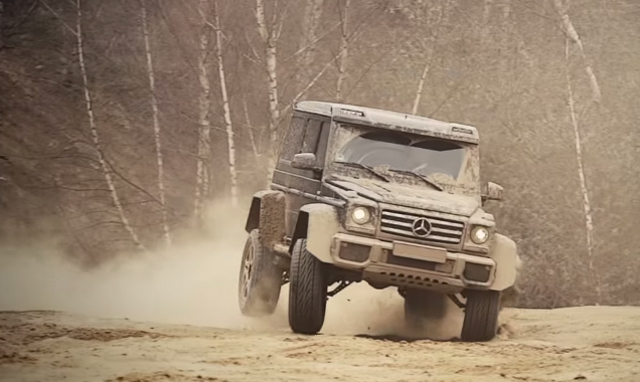 Ever since being released the Ford F-150 Raptor has been held in high-regard around the world, particularly in the United States, for its off-roading prowess. So when Top Gear Magazine recently got their hand on the brand new Mercedes-Benz G500 4×4², they thought it was only fitting to pit it against a bright yellow Raptor in a battle for off-roading supremacy!
As a reminder, the Mercedes-Benz G500 4×4² comes with a brand new V8 which is related to the new AMG V8 found in the new AMG GT and C63 AMG. The 4.0 V8 features a hot inside-v where two turbochargers are mounted inside the V8. This makes the engine considerably smaller and more efficient. It produces 422 hp and 610 Nm of torque, enough for a 210 km/h top speed.
[youtube]https://www.youtube.com/watch?v=93riKVeiX8s[/youtube]
The most significant feature on the new Mercedes-Benz G500 4×4² are its portal axles. In setup, they are quite similar to the G63 6×6 but shortened by one axle. To further improve handling of the 'Hulk', as it was dubbed after the first spy shots, the suspension has been extended with two springs and damper struts per wheel, a setup derived from rallying.
Like the Mercedes-Benz G500 4×4², the F-150 Raptor also features a 6.2-litre V8 engine although it delivers 417 hp and 434 lb-ft of torque.