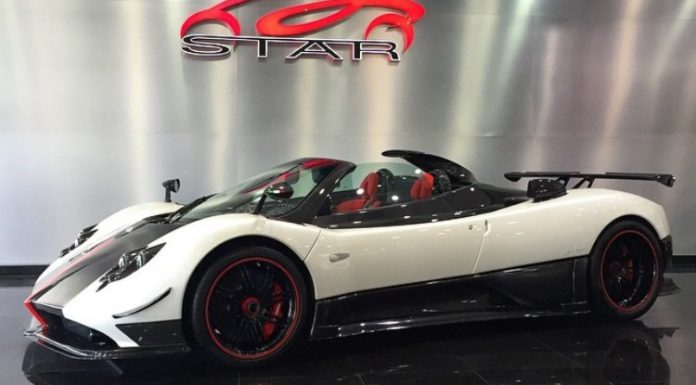 There are only a small handful of cars which have captured the industry's attention like the Pagani Zonda. While its official production run wrapped up years ago, one-offs continue to be produced thanks to orders from wealthy enthusiasts. Before the Italian marque completed the 'official' production run of the Zonda, the extremely limited Pagani Zonda Cinque Roadster was certainly one of the most expensive and eye-catching examples offered.
Preceding the Zonda Cinque coupe, just five units of the Cinque Roadster were ever produced and now #3 is up for sale courtesy of Megastar Motors in the heart of where else but Dubai. The dealership is no stranger to offering some of the planet's most expensive cars and this Cinque Roadster is certainly up there with the best of them.
Specific details about this Cinque Roadster are hard to come by meaning it is unclear just how many kilometres it's covered. Whatever the case may be, it is probable that it has less than a few thousand kilometres under its belt. As a result, it isn't surprising that the asking price is rumoured to be sitting at 13 million DHS which is the equivalent of $3.5 million!
In case you need reminding, the Pagani Zonda Cinque Roadster's 7.3-litre naturally-aspirated V12 engine pumps out a brutal 669 hp and thanks to new bodywork and aerodynamic elements, the Italian supercar creates 750 kg of downforce at 355 km/h.