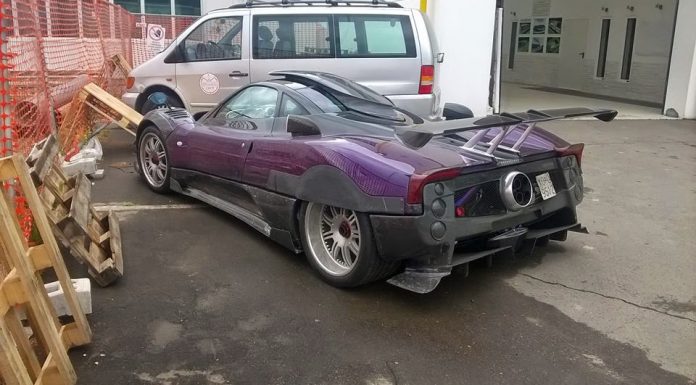 A new special edition Pagani Zonda has been spotted at the Pagani factory in Italy. The Pagani Zonda Zozo has been ordered by a Japanese customer and is named after his company, Zozotown. It is thought that this particular car is built upon the chassis of an older Pagani Zonda, although the particular chassis number is not yet known.
The Pagani Zonda Zozo gets purple paintwork similar in style to the Lewis Hamilton car. The Zozo is different though. It doesn't have the central rear dorsal fin and features a unique rear spoiler. The rear wheels are encased by exposed and untreated carbon fibre fender covers. It isn't clear whether the rear fender covers will stay or whether they were fitted solely for testing purposes.
Other unique features include a set of lip spoilers to the rear bumper, what looks like blacked out rear taillights and a more conventional set of front headlights. Rear fender covers aside, we think it looks pretty stunning!
The Pagani Zonda Zozo is the latest in a line of special edition Pagani Zonda's which have returned to the factory for what has become known as Pagani's "760" kit. At a substantial cost, Pagani will cater to customers tastes, offering performance improvements and insane body modifications.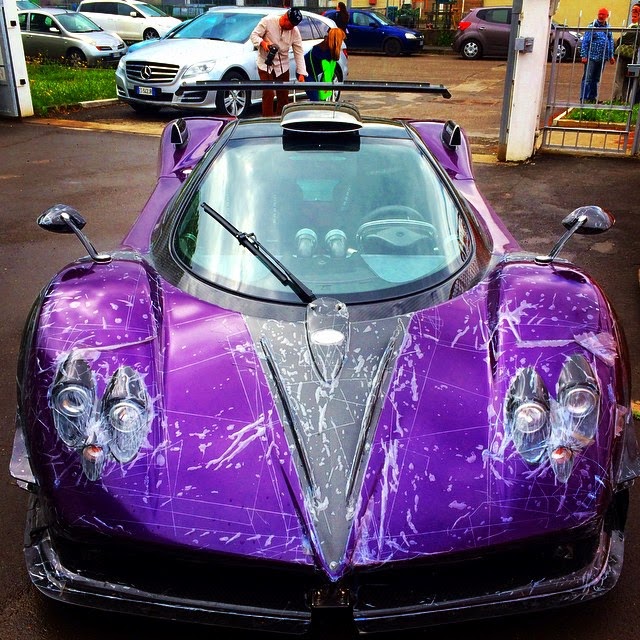 This particular car is likely to feature the 760hp engine updates. The enhancements will mean that the Zozo generates some 90hp more than the Zonda Cinque and 20hp more than the Zonda R. Instead of lifting the engine from the Zonda R, Pagani use a Zonda F as the basis with a range of enhancements, most likely lifted in part from the Zonda R. This means that it has been extensively tested to ensure it is capable of such power outputs.
[via Prototype 0]