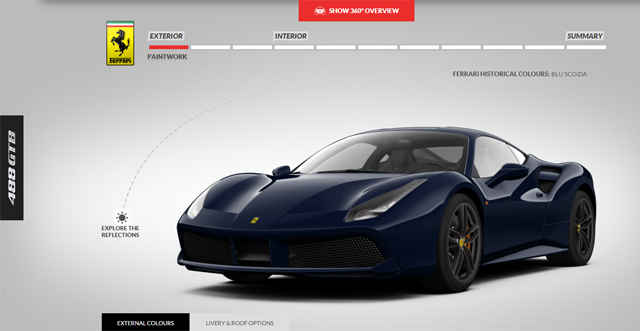 After the Ferrari 488 GTB debuted at the Geneva Motor Show 2015 back in March, the official online configurator tool for the Italian supercar has just been launched.
As with most configuration tools, the one for the 488 GTB allows everyone to dream up their ideal specification for the car. As a result, extensive paint colour options are available as well as different brake calipers, carbon fibre trim and numerous elements of the interior. If you have any spare time, this is certainly a good way to kill it!
As a reminder, the Ferrari 488 GTB utilises a twin-turbocharged 3.9-litre V8 engine which is significantly more powerful than the naturally-aspirated 4.5-litre V8 used by the outgoing Ferrari 458 Italia. As a matter of fact, the Ferrari 488 GTB delivers 660 hp at 8000 rpm as well as 560 lb-ft of torque at 3000 rpm. Incredibly, torque from this engine is also higher than the 509 lb-ft of the 6.0-litre V12 found in the Ferrari F12 Berlinetta.
Mated to the twin-turbocharged 3.9-litre V8 is a tweaked variant of the 458 Italia's seven-speed dual-clutch transmission driving the rear wheels. The gear ratios have been modified to improve acceleration throughout the rev range. When it is all said and done, the Ferrari 488 GTB will sprint to 100 km/h in 3 seconds flat, 200 km/h in a mere 8.4 seconds as well as a 334 km/h (208 mph) top speed. Those figures are almost identical to the 642 hp McLaren 650S which hits 100 km/h in the same time, 200 km/h in 8.5 seconds and a 333 km/h (207 mph) top speed.