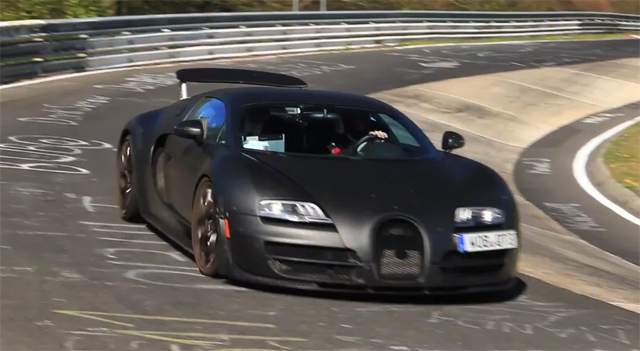 A test mule for the Bugatti Veyron's successor, tentatively dubbed the Bugatti Chiron, has been spied in the midst of testing at the Nurburgring Nordschleife. As the following video shows, the prototype was completely undisguised and lapping the famous German racetrack very gingerly. Nevertheless, this is our first time seeing the next-generation Veyron on the move.
[youtube]https://www.youtube.com/watch?v=JK2Bchmxj58[/youtube]
While the Bugatti Chiron remains a while away from being released, GTspirit learnt earlier in the year that it will retain the 8.0-litre W16 engine of the Veyron. This information falls in line with what recent rumours suggested and highlights that the French marque believes more power and lower fuel economy numbers can be achieved by the admittedly monstrous engine. While we found out that the W16 engine will be retained, it is unclear but likely that the quad-turbocharger design will also be maintained with previous reports suggesting that electric turbos could be adopted for improved efficiency.
Bugatti Veyron Grand Sport Vitesse La Finale

The implementation of electric turbochargers could significantly improve low-end torque as well. Alongside the possibility of electric turbos being used, there's certainly a strong possibility that the Bugatti Veyron's successor will use some form of hybridisation with an electric motor mounted within the gearbox and alongside a lithium ion battery possible.
Whatever the Bugatti Veyron's successor's powertrain is made up of, it is speculated to deliver in the region of 1500 hp or 300 hp more than the current range-topping Veyron Super Sport and Grand Sport Vitesse models.
Beyond the upgrades to the engine and inevitably tweaks to the dual-clutch transmission, Bugatti engineers are pinned to focus heavily on stripping away any unnecessary weight from so the Chiron weighs less than the 1840 kg Bugatti Veyron Super Sport.